Successful classic crime writer Mary Tant, whose ninth Rossington West Country mystery – The Theme is Death – was published by Threshold in March, writes about Bryn, her new Border collie puppy from the Brecon Beacons.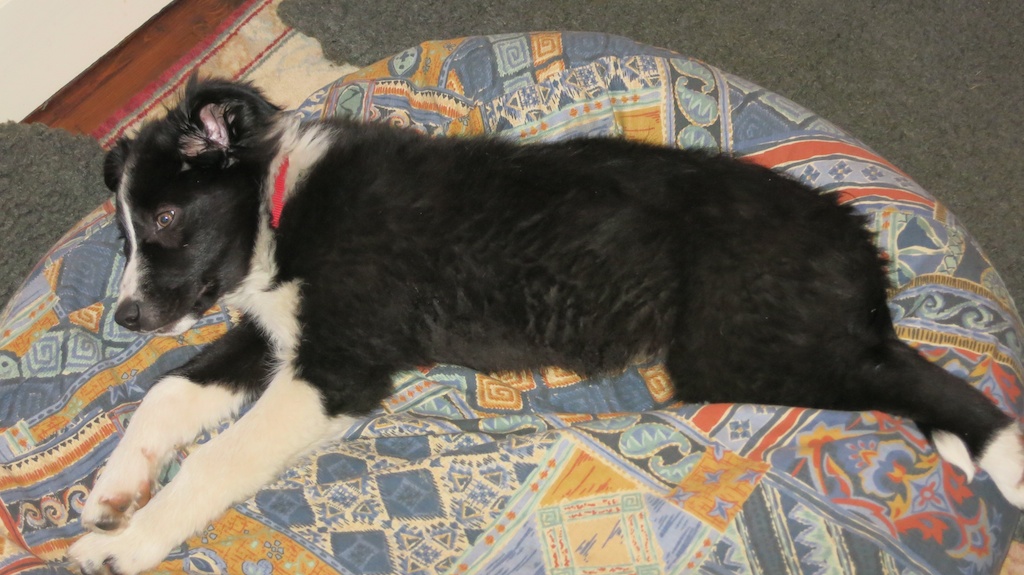 Bryn's story…
ONE
Meeting
It had been a long drive, mainly in pouring rain. Suddenly, as I neared the end of the journey, the sun came out, lighting the green fields and sodden gingery slopes of bracken of the Brecon Beacons. It was a lovely landscape, and a rainbow shot its arch of colours over the distant sky as I took the car down the long drive to the sheep farm, admiring the space and quietness that surrounded me.
At the farm there were dogs. Collies, the adults busy moving sheep into a holding pen. Four generations of the same family were here, the new puppies, their mother, aunt, father and brother, maternal grandmother and great-grandmother. Long-legged and lean, with golden eyes, the younger bitches showed some initial interest in me, and later the matriarch came to inspect me too.
The two remaining puppies were still small, just twelve weeks old, and not at all concerned about me. After a cursory sniff at my feet they were off, wriggling under a wire fence into the field beyond. In a matter of seconds the flock of sheep that had been peacefully grazing there were neatly penned into a corner of the field, staring indignantly down at the heads of the two young collies, which were barely visible above the grass.
It was only later that the puppies began to notice me, when we were all settled in the back kitchen of the farmhouse. One, Jim, was more confident, very much like my dear dead Tirn in manner and attitude, coming to sit beside me at once. Like him, Jim was an exceptionally good working dog, and the farmer was keen for him to go to a working home.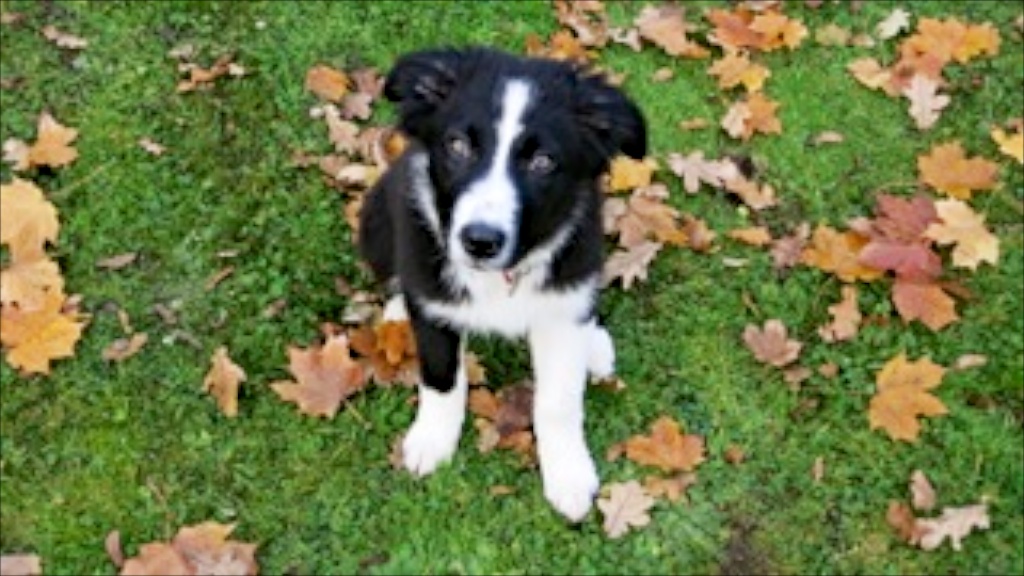 His brother, Toby, was also a very good working dog, but was curious about other things too. He was more cautious in attitude and sat considering me for some time before deciding to accept me.
It was Toby I took home, rechristening him as Bryn to reflect the farm and land of his birth. And I was soon to learn that the cautious approach was deceptive. Once I was among his elect his full personality burst forth, and so did his energy. I had quite forgotten the details of what it's like to have a collie puppy.
18 November 2013
TWO
Getting Home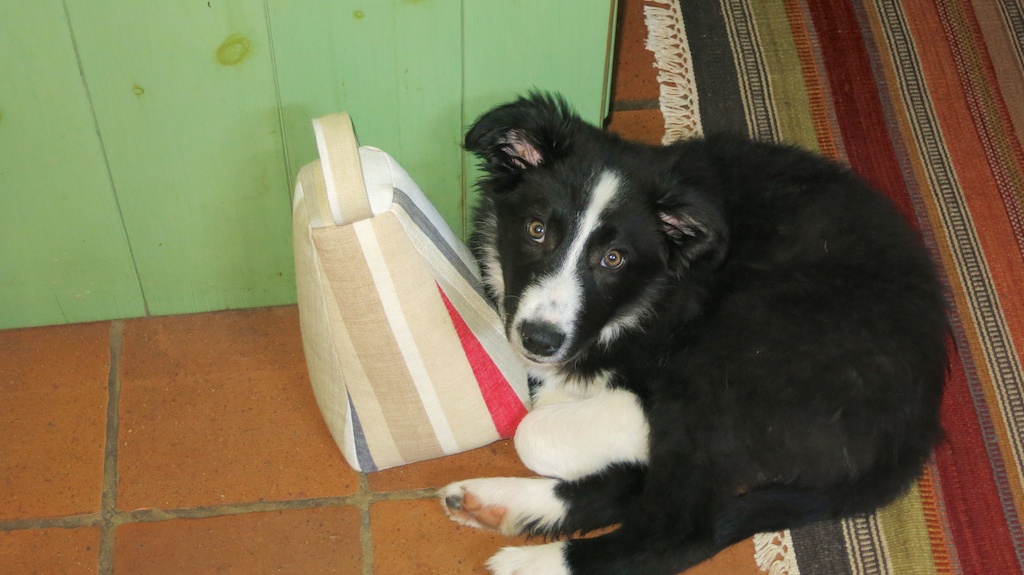 It was nearly midnight when Bryn reached home with me for the first time. I was afraid that he would be disconcerted by the strange place, and perhaps miss his family, especially in such a different setting. Streets replaced the farm, houses the trees that he was used to, and the noises were very different, cars instead of sheep, cats instead of foxes.
But Bryn was fascinated by the new experience. Peeing copiously as soon as he entered the garden for the first time, having fortunately held on during the four-hour drive, he went on to explore under all the bushes, pausing to stare into the pond, lingering over hedgehog routes down the garden.
He walked confidently through the open front door, keen to see what was inside, and getting more and more excited as he explored the ground floor. When he found he could make a circuit round the front rooms – sitting room to dining room to hall and back into the sitting room, his excitement burst forth. His eyes gleamed as he sprang onto the sofa, from there jumping to one chair, bounding down onto the ground to reach the next and going on until he'd leaped into all of them.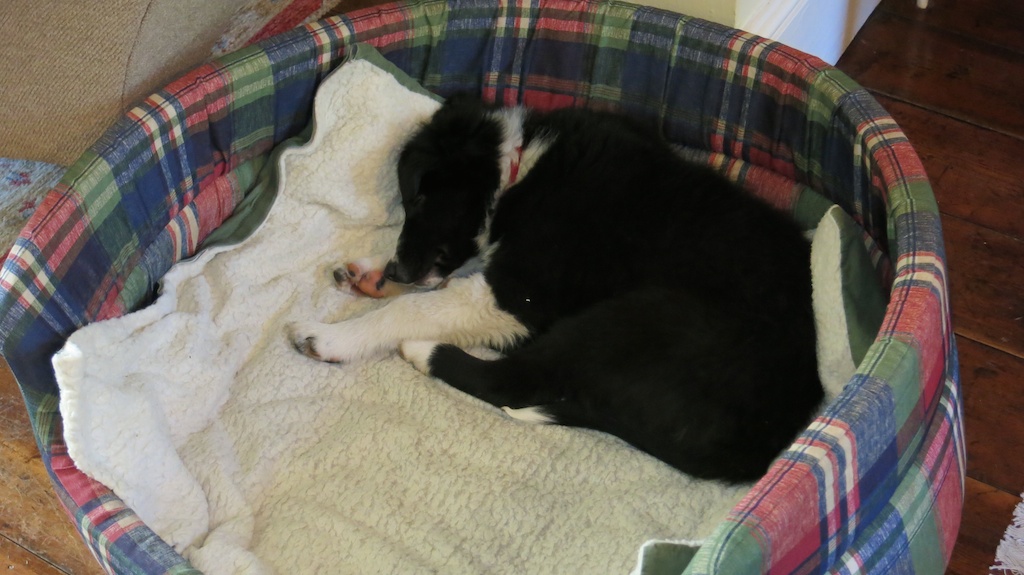 He'd slept through most of the long drive back and had obviously recouped his energies. I left him downstairs and went to find one of Tirn's old toys, packed away in a huge box. When I offered Bryn the smallest and least used, a soft tortoise, his eyes gleamed as he took it gently in his mouth. He felt all over it, found the squeaker and jerked back, looking at me to see what I thought of it. As I obviously wasn't worried or upset he felt it again, and soon he was pressing ecstatically on the squeaker, making it sound repeatedly.
He seemed to have enough energy to keep going for the rest of the night. I didn't have, so the thought of clearing the kitchen of travel boxes and setting up a bed for Bryn wasn't appealing.
Upstairs he came with me, settling quite happily onto an old bean bag of Tirn's as I sank gratefully into my own bed. When I looked over he was already sound asleep.
To my considerable relief Bryn stayed asleep all night. I'd been afraid I'd find him on the bed next to me, but he was still on his bean bag. He'd spread out full length and didn't seem to have moved at all, and even stayed sound asleep as I got up and dressed. In the end I had to wake him up and carry him downstairs to start our first full day together.
18 November 2013
THREE
First visit to The Lizard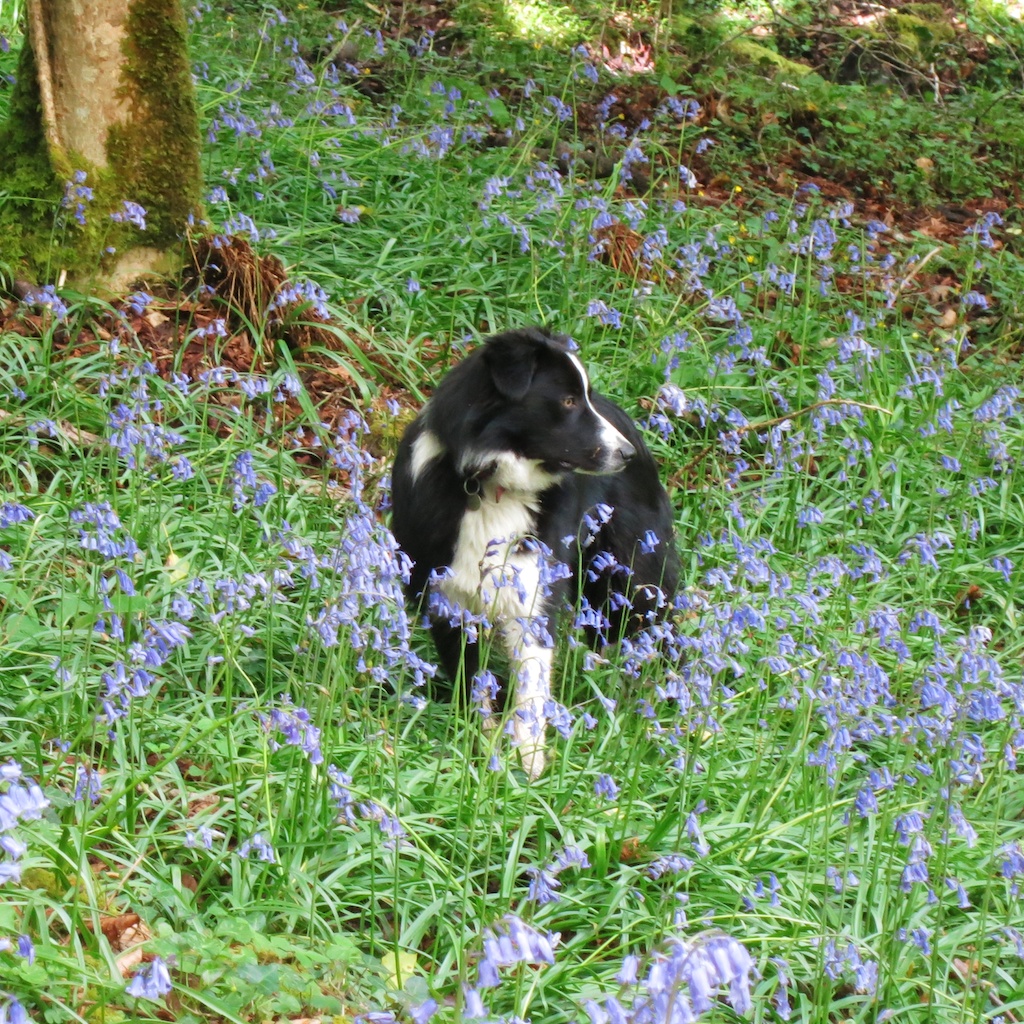 There was space, and luminous light and the smell of salt from the sea. These must have been the very basic impressions Bryn got as soon as he jumped out of the car at The Lizard cottage.
There must have been others. I could smell the subtle fragrance from the sheets of bluebells under the oak trees, and knew that if I got close to the carpets of whiteness that bordered the long estate drive I would smell the wild garlic. But I suspect Bryn's first impressions included the scent of the rabbits that scattered as our car rounded the drive. He certainly followed their routes into the small woodland beyond the farmyard with great alacrity. And when we walked down the drive itself there were clear tracks of the larger animals who live here – badger slides, fox routes, deer prints.
He behaved immaculately, keeping a close eye on me, coming promptly when called. He lingered over the routes that led across the banks and under the trees, but stuck firmly to the lane below the fields.
The boundaries of the garden, yard, woodland and orchard are reasonably well defined, and he likes to check them out, but has kept within them.
Yet he warns me promptly of anything approaching. The collie who comes round the outside, barking energetically, every morning and evening gets a vigorous response, very clearly pointing out that this is Bryn's ground, stay away. The tractors that have worked tirelessly, harrowing, drilling, cutting the silage and gathering it in, are permitted to get close, but not too close – two fields is enough, before I have to be warned they are closing in. Jets from the nearby airfield aren't yet seen as a threat, Bryn just sits in fascination, his nose in the air, watching them flash overhead.
FOUR
In the New Forest
It's bakingly hot, so walks out from the New Forest cottage are in the morning and early evening. But, whatever the time, it's the brook that holds endless fascination for Bryn as soon as we walk through the paddock and out onto the bank.
The brook winds in sinuous curves through a wide open grassland, edged with slopes of bramble and bracken before the copses are reached. He races along the loops, tail streaming out behind him. Sometimes he turns to see how far behind I've fallen, one ear pricked up, the other flopping down, his eyes bright gold like the water below him, his tongue hanging out of his open mouth.
Most of the time he's in the water, paddling, wading, biting great gulps as he moves. And he's learned to swim. At first he looked round anxiously when the water deepened, generally on one side of a curve. Then suddenly, there he was, swimming effortlessly across a pool towards me as if he'd been doing it forever.
14 July 2014
FIVE
The Heights and The Depths: Dartmoor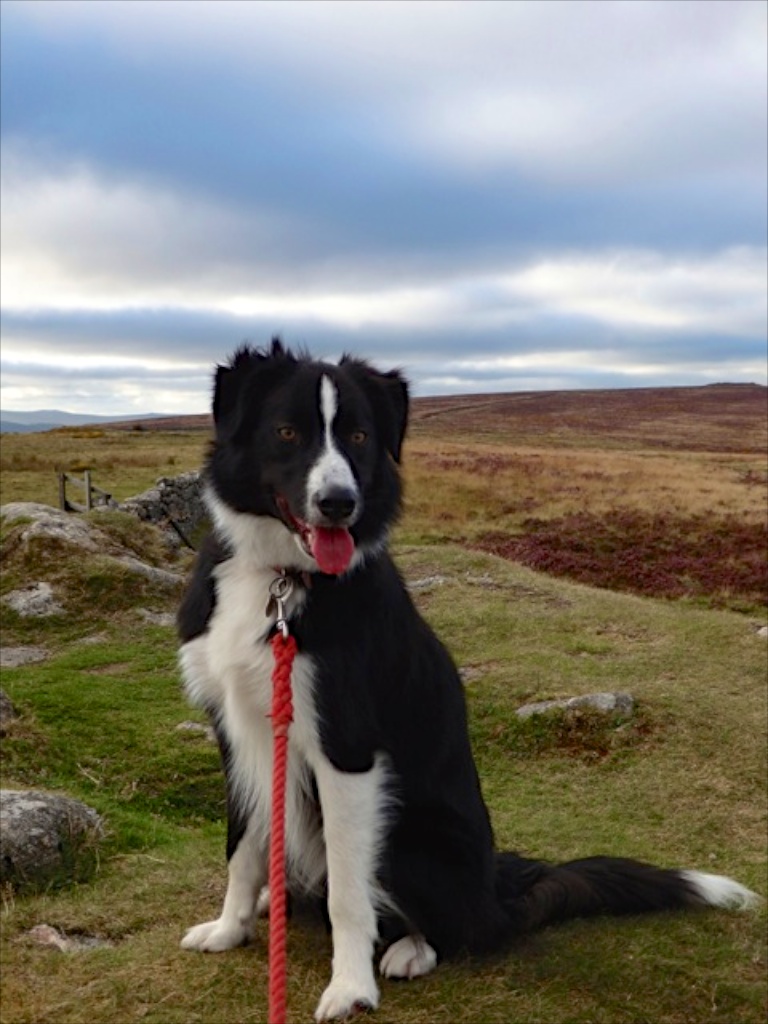 Bryn set off confidently, following the grassy track through the massed ranks of flowering gorse and heather. He went steadily uphill, pausing now and then to sniff at the variety of droppings and the faint routes through the undergrowth. But when we reached a rocky outcrop and I paused to enjoy the view he scrambled up to the top of the granite slabs and scanned the scene like a sentry of old.
And no doubt there have been sentries on Hameldown, perhaps by this very outcrop, for nearby are two signs of a past conflict. Thin larch poles, weather-beaten and fragile, the remnants of the anti-glider defences that were erected here during the last world war.
Nearby Bryn dropped down between two flower-covered banks into a fragrant trough, lushly green, with a view to the east ramparts of the moor, with Haytor prominent on the horizon. This was a tinner's leat, many of which are to be found on the surrounding hills.
On the slopes of the Black Hill he found more depths, ones I was keen to keep him out of. These were more mine workings, but deeper longer scoops out of the land, with steeply shelving sides. Inevitably they were very attractive to Bryn, no doubt sheltering a variety of rabbits and foxes at different times. He soon came to know that he wasn't supposed to go into them, so he'd sniff the bushes fringing one, then would saunter past until the last minute when he'd make a quick dash to get into the hollows. It certainly keeps me alert when I'm walking with him.
SIX
The Lizard: At the seaside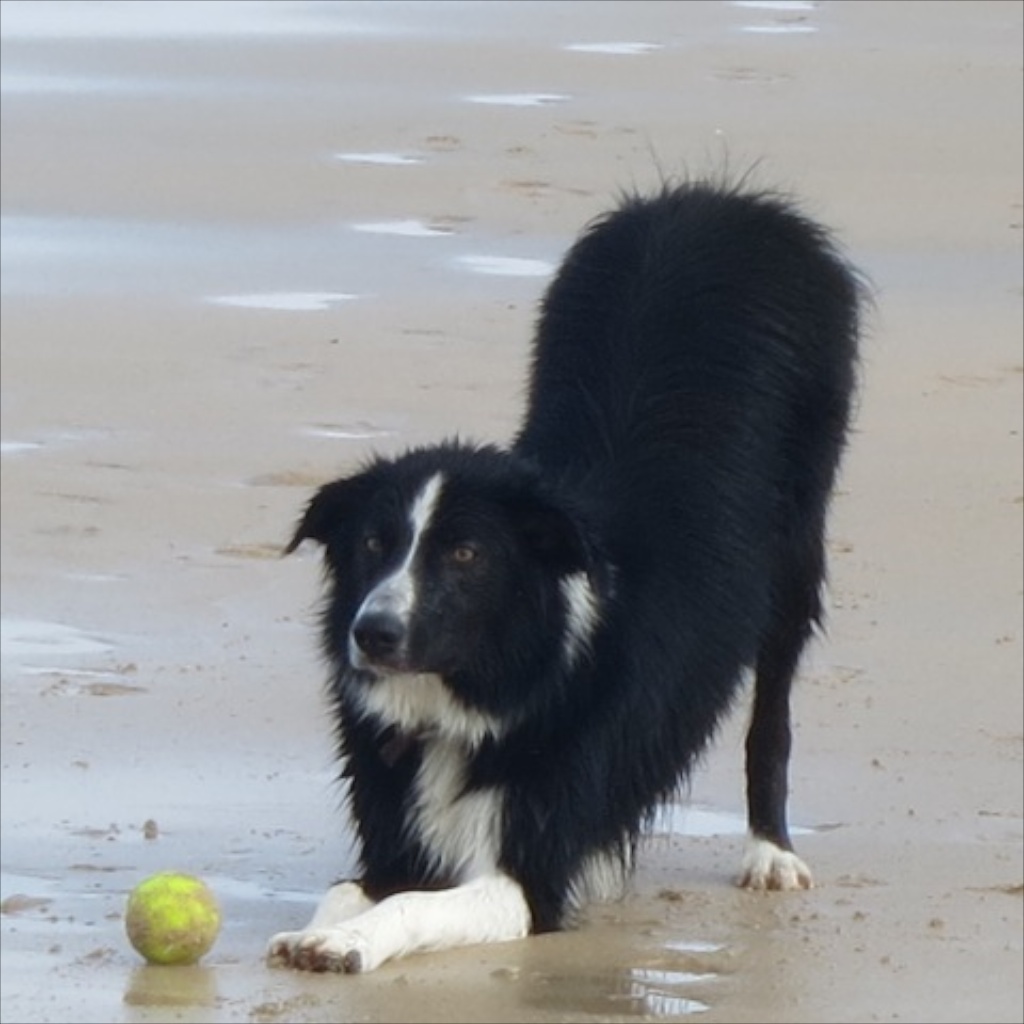 The collie puppy who visited the beach at Hayle in May was cautious about his first experience of the sea. Intrigued by the movement of the waves creeping up the sandy beach, he had no inclination to go into the water. He stood, watching the waves approach until the creamy foam edge was a fraction away from his front paws. Then he danced gracefully backwards without getting his toes wet at all.
The only way of getting him in then was for me to go in first. Then he would come too, anxious that I shouldn't get into trouble.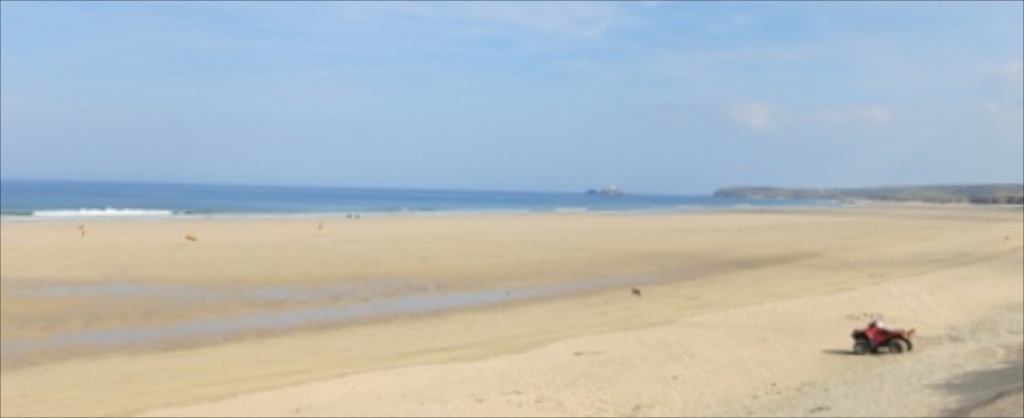 Now, on this second visit to The Lizard I can hardly keep him out of the sea. As soon as he was out of the car in the dune car park at Phillack Towans he was gone, straight down the sandy slide and onto the wide stretch of sand below. He waited to see that I was coming, then off he went over the beach directly to the sea. He stood without a qualm in the water as the tide turned and the sea lapped around his feet. As soon as I began to throw his ball, he was out in deeper water, snout well under the waves as he retrieved it.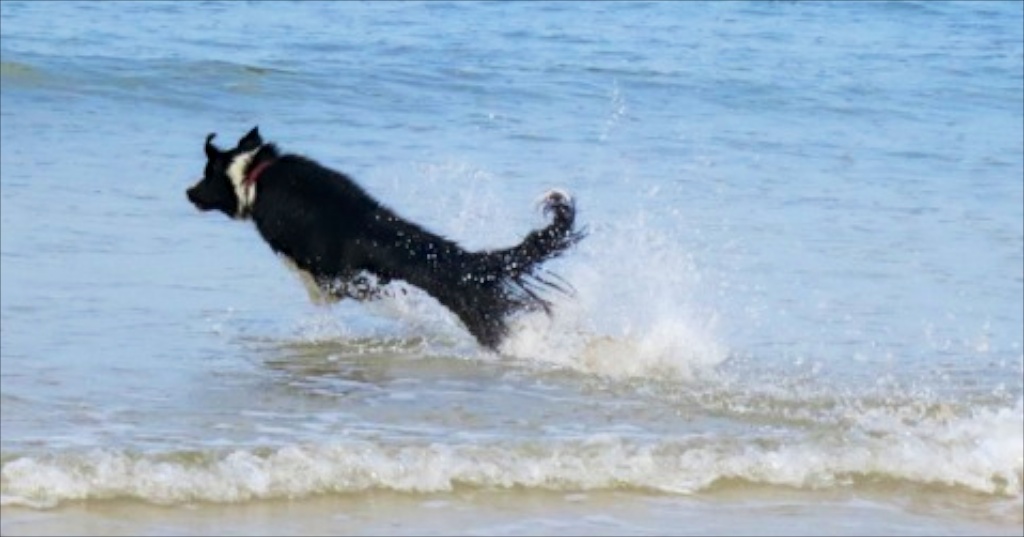 There was only a brief break for lunch under the edge of the dunes. Here he snuffled occasionally in the sand until his nose was coated in damp grains. For a while he lay beside me and watched the few other users of the beach, mainly dogs and walkers. But his attention was caught on the next visit during this trip when the air-filled sails of the sand yachts floated across the sky.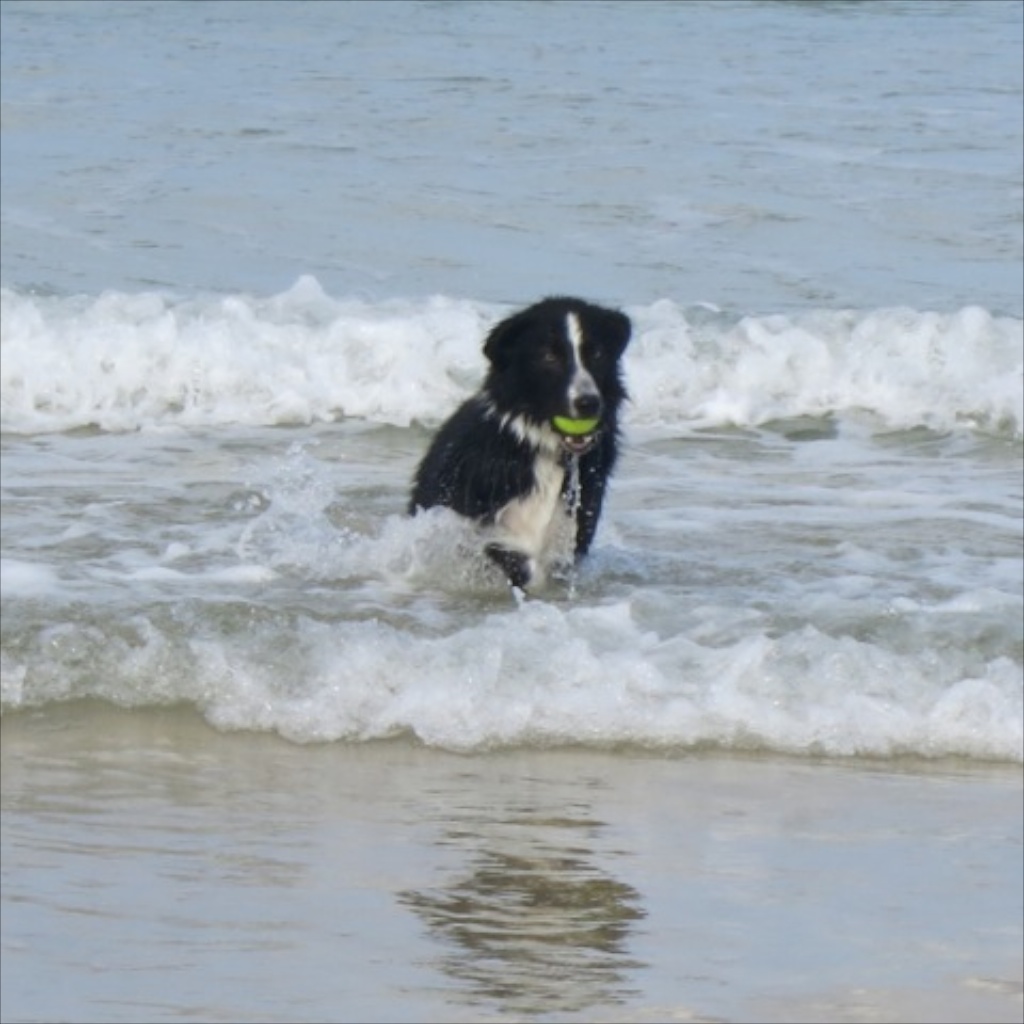 Already Bryn is reluctant to leave the sea when it's time to go. He recognises the signs of departure, and at first lingered hopefully in the water as I walked towards the dunes. Last time he ran all the way back from them, looking over his shoulder occasionally to see if he could get me to join him in the sea for a while longer.
Bryn's introduction this time was to the rocky bay beyond Kennack Sands. Here sandy crescents are exposed at low tide, so he spent happy hours on one of them, occasionally greeting another dog, but mainly playing ball in the water. He hasn't yet discovered the joys of exploring rock pools. But he has found that running across shingle is much harder work than racing over smooth sand. And he has developed a taste for chewing seaweed. Amazingly he wasn't sick after this, as he was after his first prolonged adventures in the sea.
A short break at Kennack at lunchtime showed a few other groups of people and dogs, sitting around the small bay like us, all a decorous distance apart and peacefully enjoying the sunshine. The only sound was the rolling of the waves. Not a single dog barked, not even mine.
And then there was the beach at Coverack. We only made a short visit, but the gleaming sand was too appealing to resist when we passed it. Certainly Bryn thought so. He restrained his urge to race down the steps on the lead with such visible effort that people smiled to see him. Once there he was almost tempted to join in with a game of football (such a large ball), but the pull of the sea was a greater imperative.
Molly, a black spaniel, came to join him, and Bryn decided to have her tennis ball instead of his. Molly, however, was more selective and wanted her own. To Bryn, a ball is a ball, all he wants to do is play with it. Perhaps there is a slight thrill in having one belonging to another dog. Certainly he'll pick up theirs as quickly as he picks up his own. Maybe he thinks it'll get lost if he doesn't.
2 September 2014
SEVEN
Autumn in the woods
Bryn stared down at me, his eyes bright with excitement. He'd been trying to follow one of those pesky squirrels up a tree for some time. And now he'd actually done it.
The coppiced chestnut was ideal for a dog with ambitions to climb. It stood on the bank enclosing an old plantation, its thick limbs spreading out at gently rising angles from the enormous stubby trunk. For Bryn it was like climbing steps and he was a good twelve feet up before he came to a stop. The squirrel of course was long gone, leaping off into another tree. Thankfully, Bryn hadn't followed its example.
The crop of sweet chestnuts has been abundant this year, and squirrels have been so busy garnering it that they seem to be everywhere. Flashes of swiftly moving grey bodies, tails floating past, it's enough to keep Bryn's eyes darting from side to side on every path, scanning through the trunks to catch the first sign of movement. The speed of his chase once had him stretched up a tree trunk, only his hind paws on the ground, but this is the first time he's actually gone aloft.
In the New Forest the chestnuts are augmented with the acorn bounty, but there's so much more space that the squirrels don't come in such dense crowds. But there are the deer as well, intent on their own autumn business.
We were at the end of a good walk when Bryn put up his first stag. It was a new route and I didn't know the usual resting places, so when he whizzed into a copse I was taken by surprise to see a flash of pale antlers as the fallow stag moved. Bryn was after him at once, but fortunately came back after a minute's hair-raising chase. His tongue was hanging out, his eyes glittering with excitement. I was frantically whistling, waiting to hear screams of pain if the stag turned on him, so Bryn returned to a serious scolding.
That, or exhaustion, was enough to make him walk meekly beside me for the rest of the way, only briefly glancing at the ponies we passed.
I have to keep reminding myself that my other collies all soon got to the point where they would pass by any other creature without chasing it. I'm hoping it won't be long before Bryn gets to that stage too. And there are signs of progress, mainly that he's coming back at once after the initial dash on first sightings.
Our closest encounter came recently, both of us walking together along an overgrown forest ride and wondering about the booming barks that reverberated around us. I was just considering how big the approaching dogs could be when the penny dropped with a startling clang. The sound was the challenging roar of a stag on his mating ground.
Even allowing for the way sound travels through the forest, he sounded unnervingly close. Bryn was fascinated, cocking his head to one side as he listened, but he stayed close beside me as we picked our way carefully through the trees. It was unnerving to expect at any moment to come face to face with the bellowing male on his private lawn, or to meet a challenger silently weaving through the trunks.
24 October 2014
EIGHT
Autumn on the downs
Bryn turns to look back, checking from strategic points on my progress. There's the point where the paths divide, where we usually go left. But sometimes just to catch him out, I turn right. Not often, because at least one hare lives in the plantation that we enter, and I'm don't like to startle him from his form. We've often come across this, much to Bryn's joy. He'll sniff all over it, picking up the freshest scent to follow before I thwart his efforts.
Sometimes the hare is at home when we arrive. If I'm lucky I spot his movement first as he sits up to assess the approaching risk. His large black tipped ears swivel and his big eyes stare towards us. Fortunately Bryn is usually too busy following all the permutation of the hare's recent trail to notice that his quarry is only feet away.
Scent is a major interest at this season. There are pheasants that have already learned to keep low under cover at any threat. Bryn's head goes down when he picks up a trace of one, and he ferrets under the bushes until the bird bursts out with frantic haste. If the bird doesn't move fast enough, Bryn stands, one front paw raised, fixedly staring at the spot where it crouches. He turns to glare at me, willing me into action, and is only reluctantly persuaded to move on. When he does, it's while staring over his shoulder, watching for the bird to scuttle out to another hiding place.
There are badger setts here, and traces of badger activity in the usual places, dung pits, turf scrapings, discarded gnawed maize cobs, but Bryn has shown little to no interest in these. Only once has he sniffed at a sett entrance, and shown some interest in going down it, when I was thankful that he was already too big to do it easily.
Rabbits, though, are another matter. There are lots of holes in the rough turf, especially in the shelter of belts of hawthorn. When we pass through clusters of these holes, really a wild warren, Bryn's nose is barely off the ground. And when there's an extra alertness, a greater speed, to his movements I can see every move and turn that a preceding but now absent fox has recently made. Fox scent is probably the one that excites him most out here.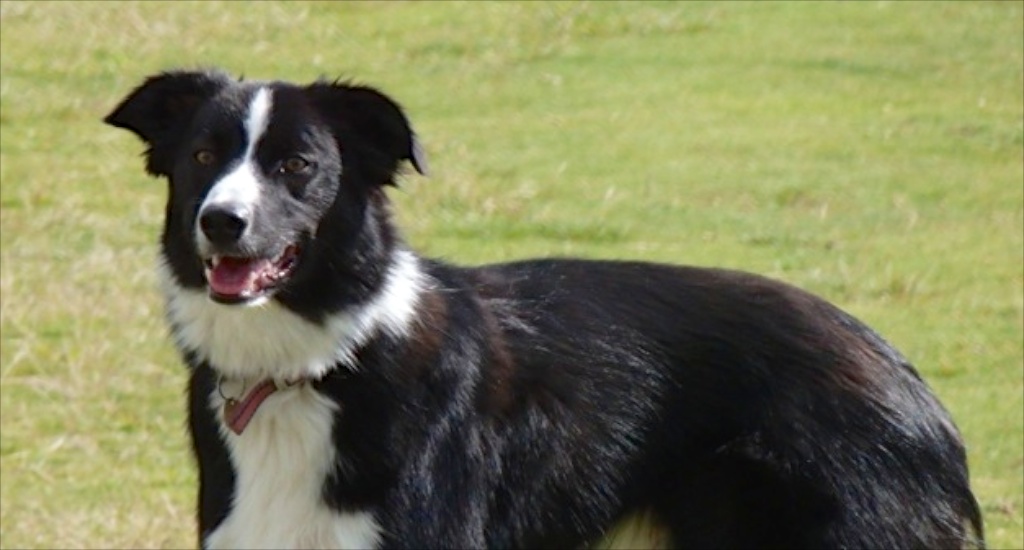 Bryn is often still, but only to stand staring fixedly at a distant point. Perhaps there was some small movement I missed, perhaps there's a scent he was trying to trace to its source. Occasionally it's been a large flock of crows, tiny specks of black as the birds checked over the turf. But already, at just over a year, he's showing less interest in chasing them into flight. He's already more concerned with where we're going, what's happening next, what's around the next corner, picking up and reading signs that are hidden to me.
And I'm thankful that his recall is very good, and was from an early stage. A loud whistle nearly always gets him back to have his tennis ball thrown. But what always works is a shouted command to find our walking companion, who's obliged to dive out of sight behind a bush or down a dip as Bryn comes belting back at full speed to find the member of the flock who's always going astray.
25 November 2014
NINE
Christmas beside the sea
Bryn squeaks with excitement when the car draws to a halt in the dunes at the back of Hayle beach in Cornwall. He's been sitting up in the back for quite a while, willing us to go faster, to get there quicker.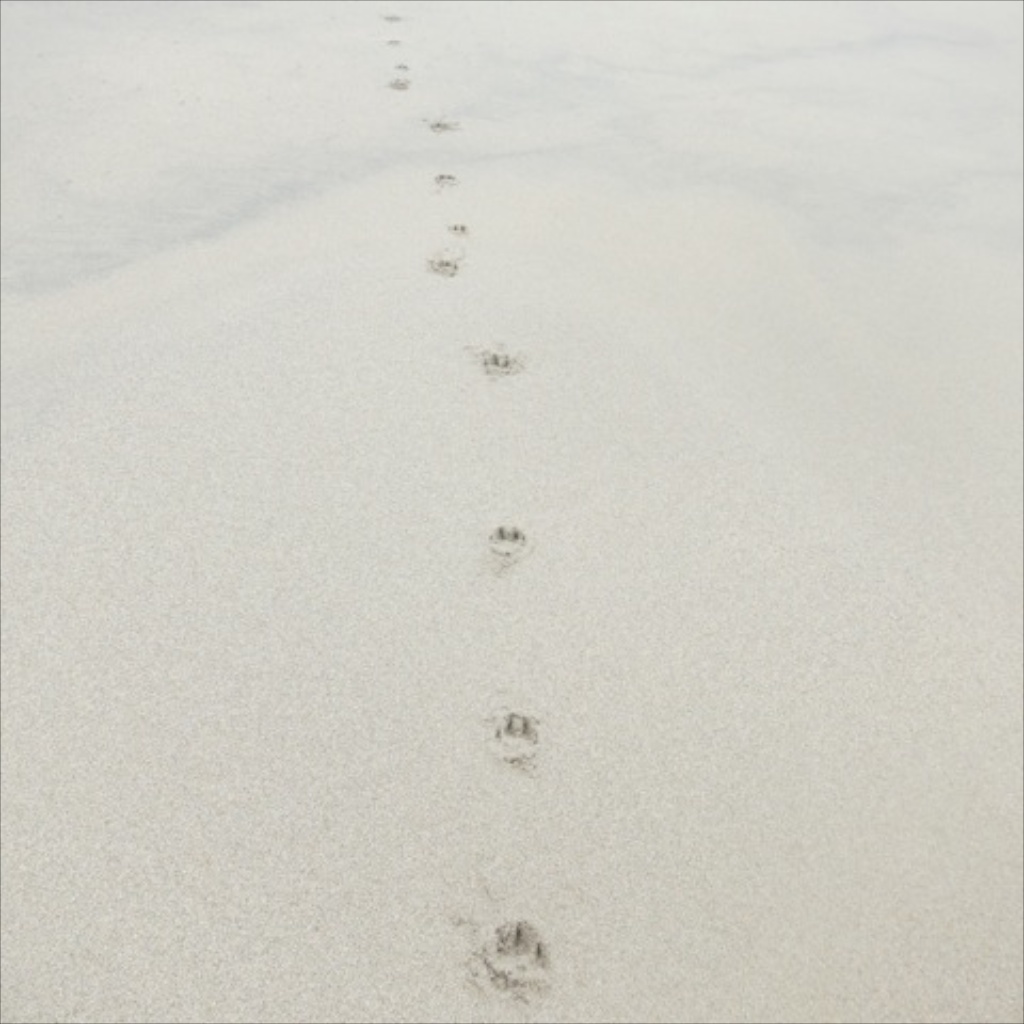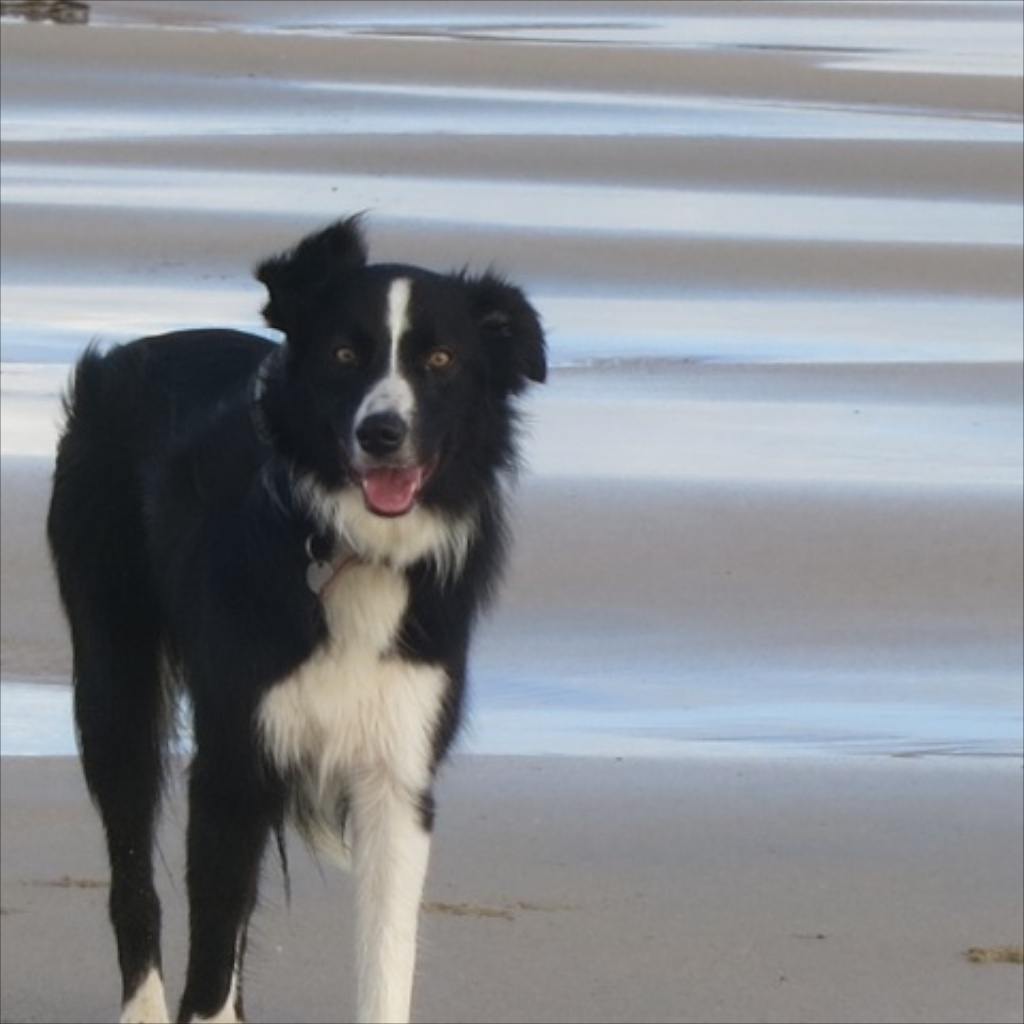 As soon as the boot is opened he's off down the path, coming back again and again to chivvy me along. Over the crest of the dune, sliding down the slope, I can't go fast enough for him. But as soon as he sees me slithering down to the beach Bryn takes off for the sea, a seething murmuring mass of water in the distance.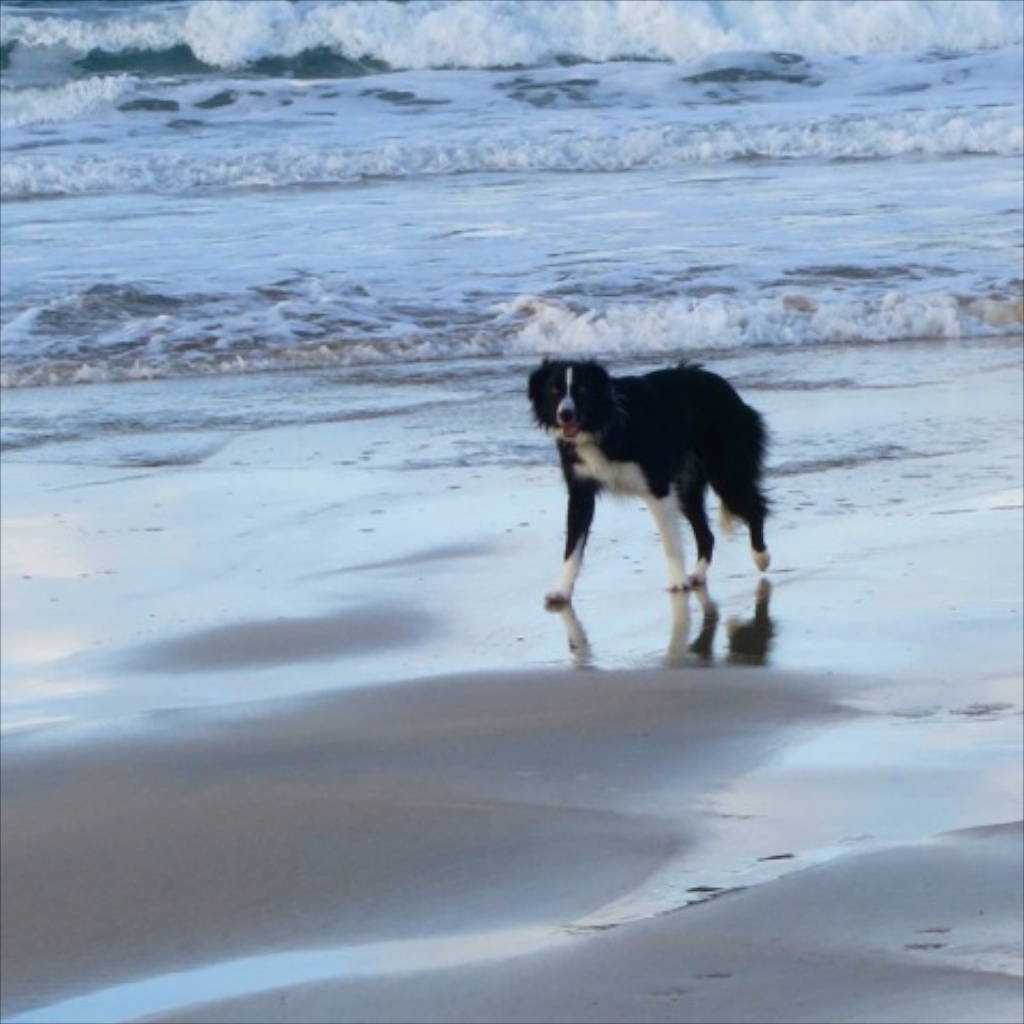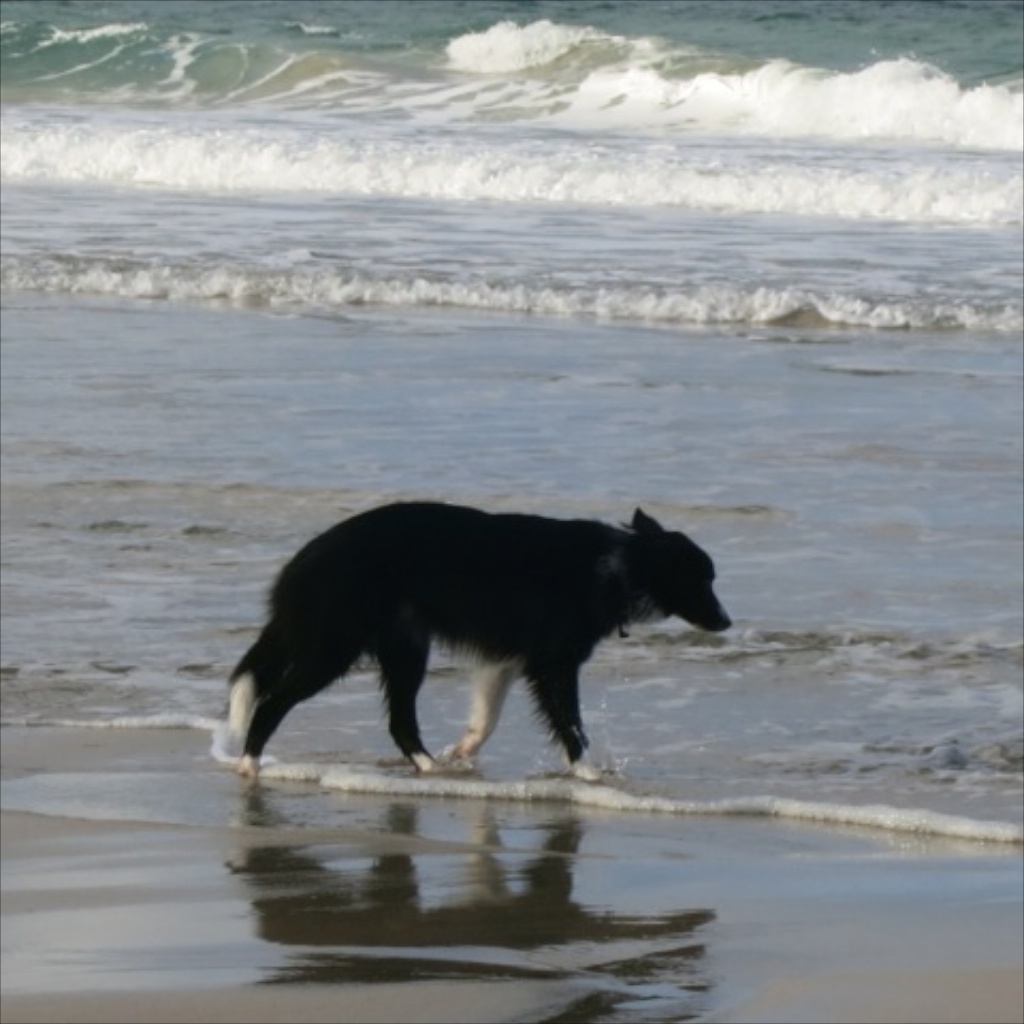 I follow the single line of paw prints across the damp sand to where he hovers, quivering with energy just on the edge of the sea. At last he can't wait any longer and rushes into the shallows, letting the waves that roll up the beach wash over his paws. He splashes through the water, pausing occasionally to peer into it, sometimes scraping at a submerged stone or drifting strand of seaweed.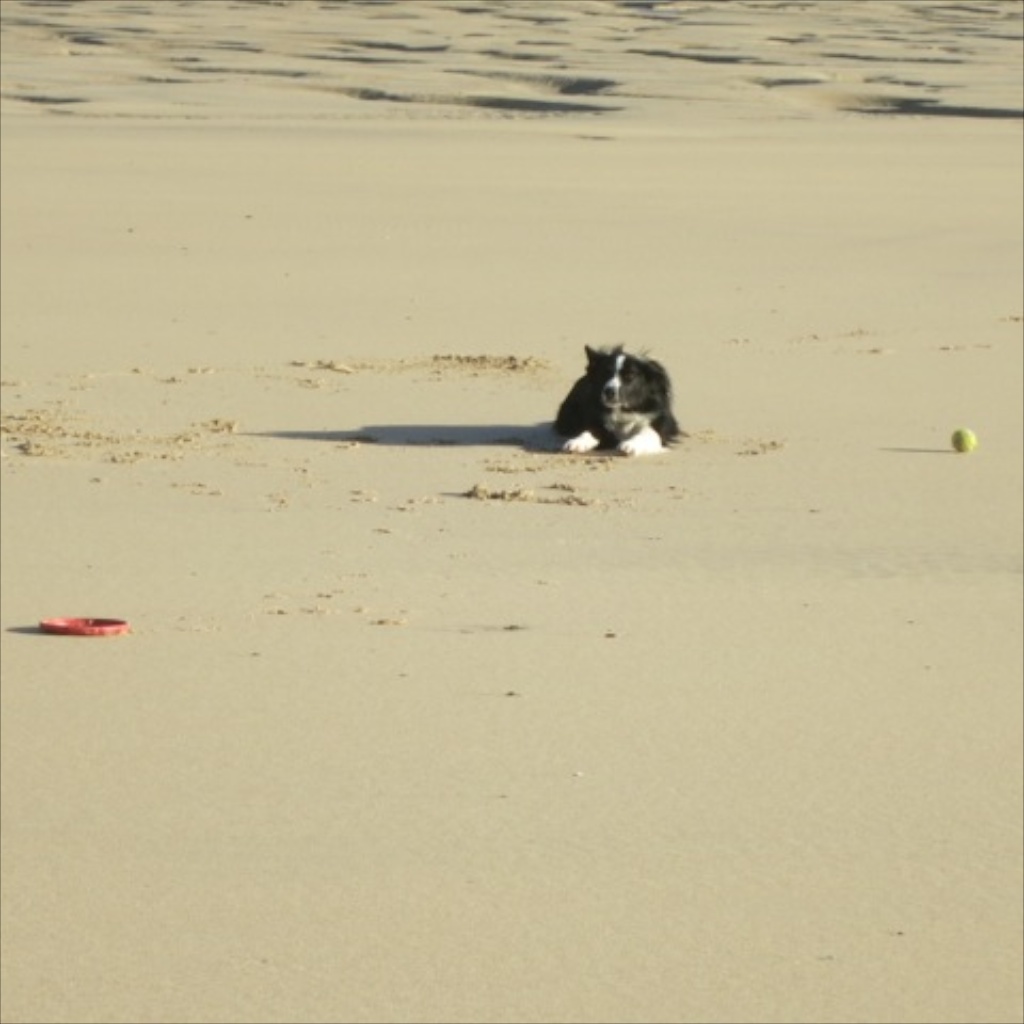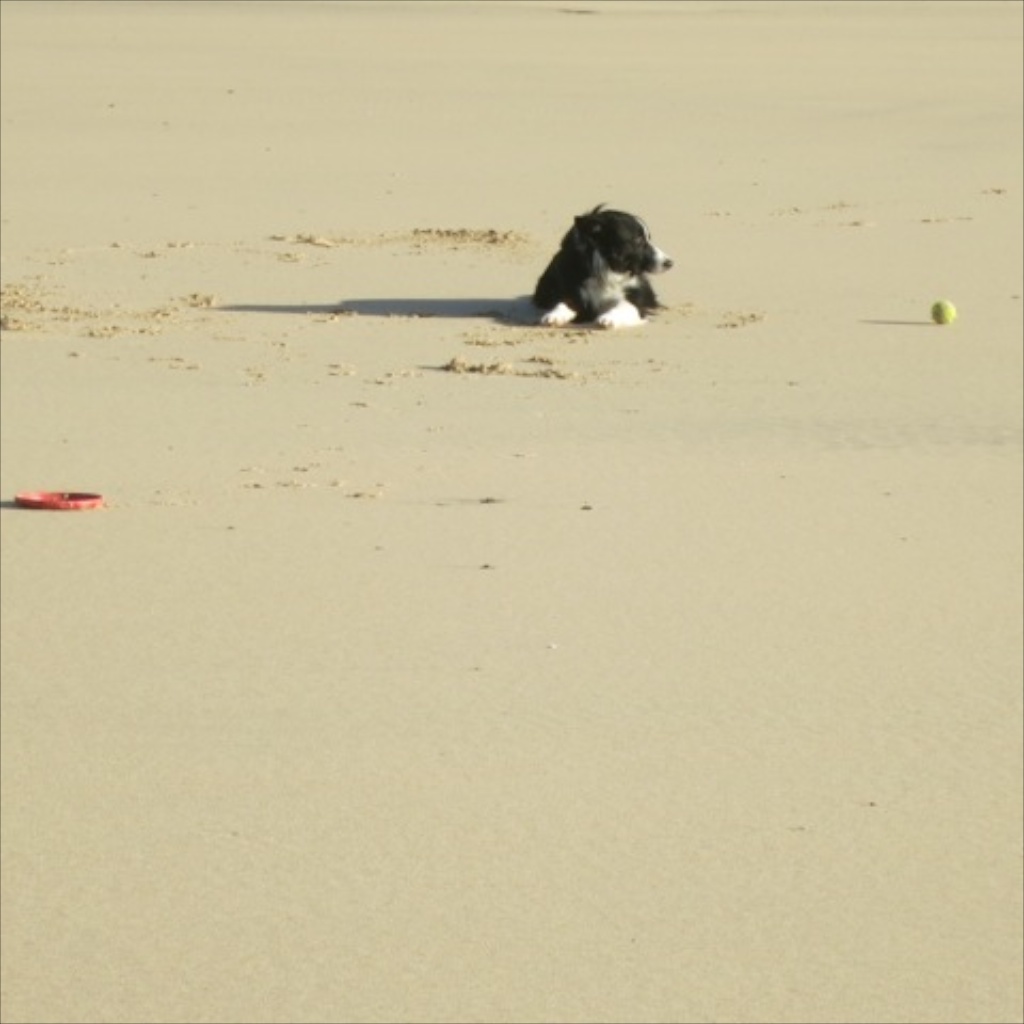 Once we begin to play games he's out on the sand, chasing his Frisbee or his tennis ball. His ideal moments are when he's got both and can wait to see which I'll go for, so that he can grab it first.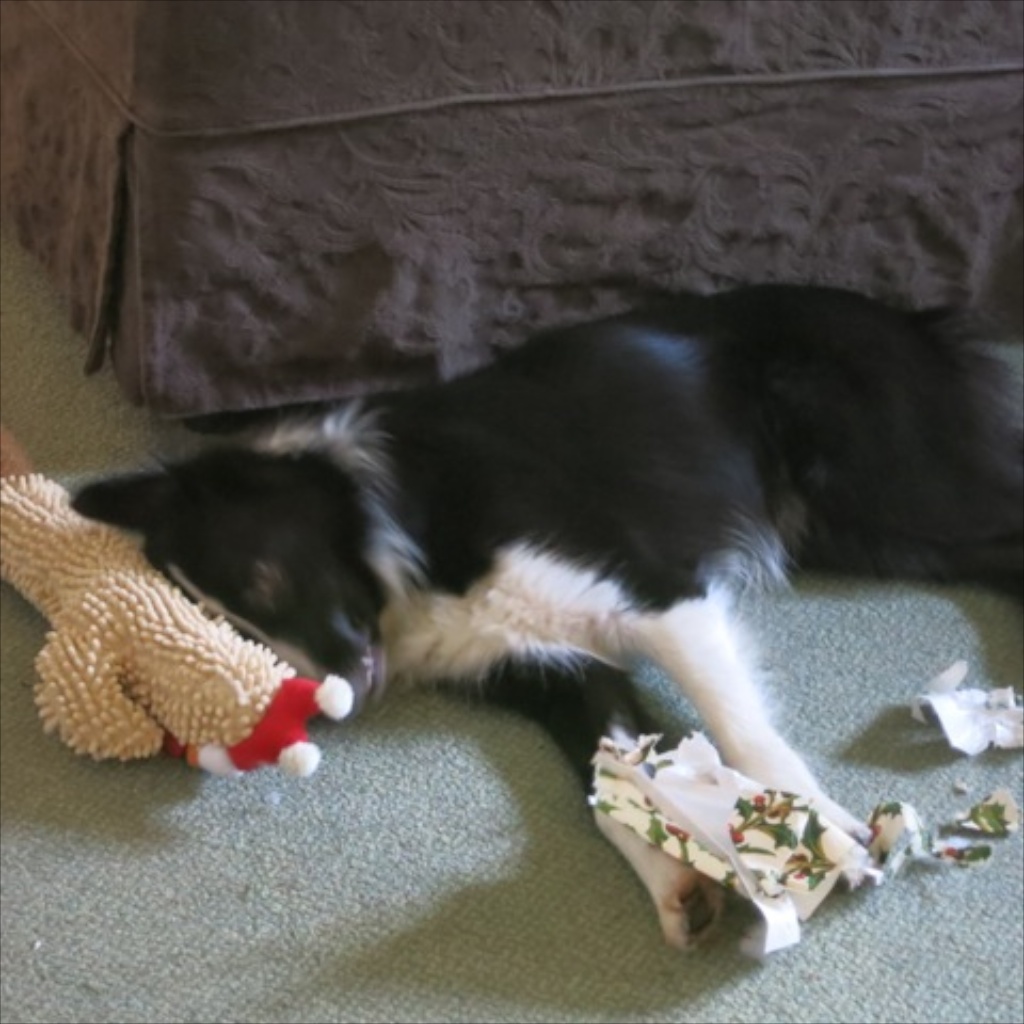 By the time we return to the car he's a damp dog, with sand speckling his face. He's a well-exercised dog too, with his tongue hanging out of his mouth as he scrambles back up the dunes, far more easily than I can.
Back at home he gathers up his Christmas toy and sleeps soundly – for a while.
25 December 2014
TEN
Early Training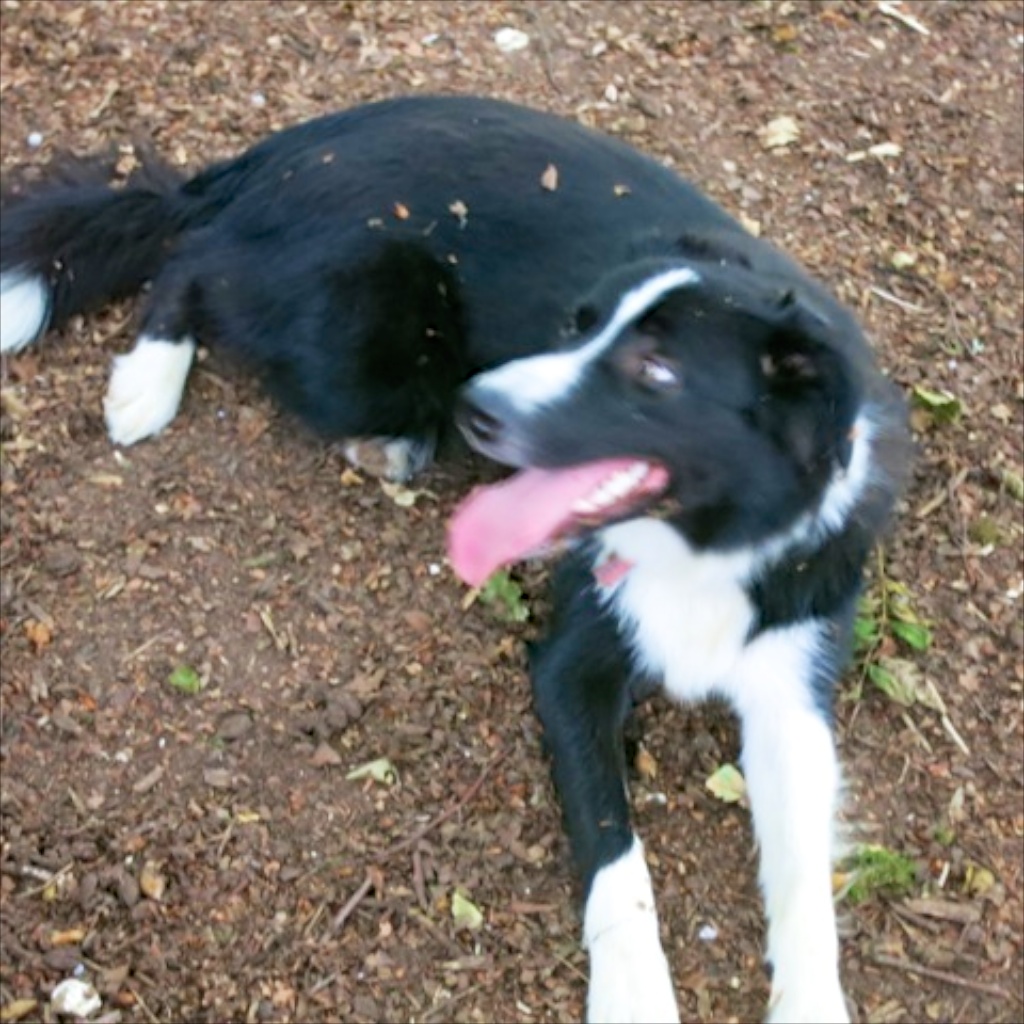 Bryn and I have lived together now for fourteen months, and for some time it has surprised me how much he has learned. A family death and its aftermath occupied several of his early months with me, and he had much less formal training than I would normally carry out with a young dog.
His only training classes were at the intermediate level, as our timing with Christmas and New Year meant we missed earlier levels. Sadly all of the classes took place at the time of my father's illness and death and going every Wednesday evening with an excuse about not doing homework brought back school day memories. And I was very tired, definitely not as alert as I would have chosen to be.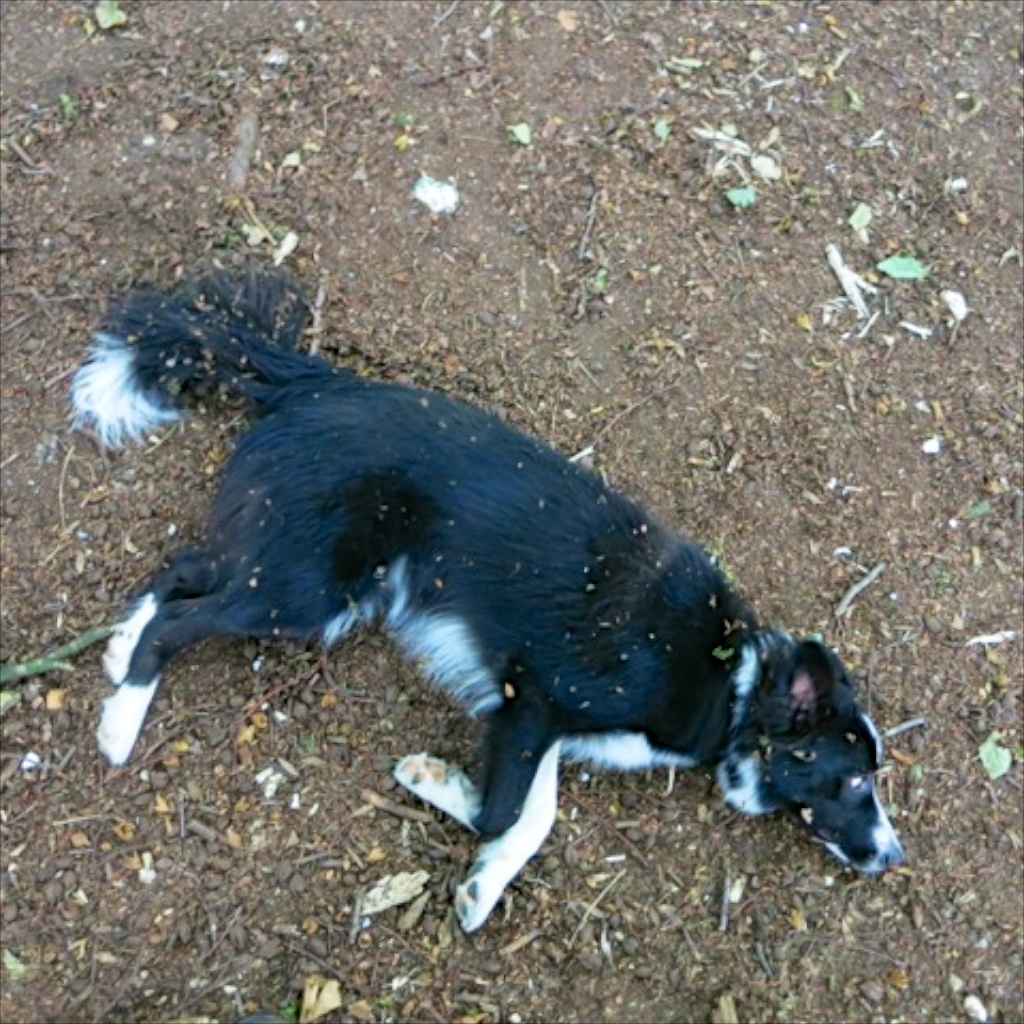 It was then that Bryn really surprised me. I discovered that he could sit on command, and walk beautifully to heel. Lying down was less good, but he waited and stayed perfectly, doing a star turn in the long distance wait and recall. My mouth almost fell open when he casually ignored all the tempting smelly objects, like horse dung and fox droppings, that had been carefully scattered in containers across the floor. He only showed minimal interest in the flapping duck toy that was pushed across the floor, and in the piece of fur that was tugged around. And he loved meeting the other puppies, but could be persuaded, with titbit bribery, to stay beside me when they were out working in the centre of the room.
Visiting the nursing home for my father's last days, and then later to see my mother who lives there now, was a learning experience in itself for a young puppy. I was afraid at first that Bryn would bark at the unusual postures and sounds, at wheelchairs and wheelie frames, but he didn't, not once. He lay quietly, watching everything around him, his eyes visibly recording the new sights.
He sat beside my father's bed, my father's hand reaching over to rest on his head, and stayed there without fuss until I left. He sat beside elderly people, who insisted on having their wheelchairs stopped so they could meet him, and whose faces lit up as they stroked him. He rolled over for a scared carer to stroke him, the first time she'd voluntarily touched a dog, and her anxious expression changed to one of pleasure as she tentatively touched his chest.
Since then Bryn has really progressed, as often due to his own intelligence as any training of mine. He waits at doorways for me to pass through first, he waits for the command to take his food in the evenings, although that he's done from the beginning. He knows he must sit down to be fussed by visitors, although sometimes his enthusiasm for those he's known all his life makes sitting very hard to do.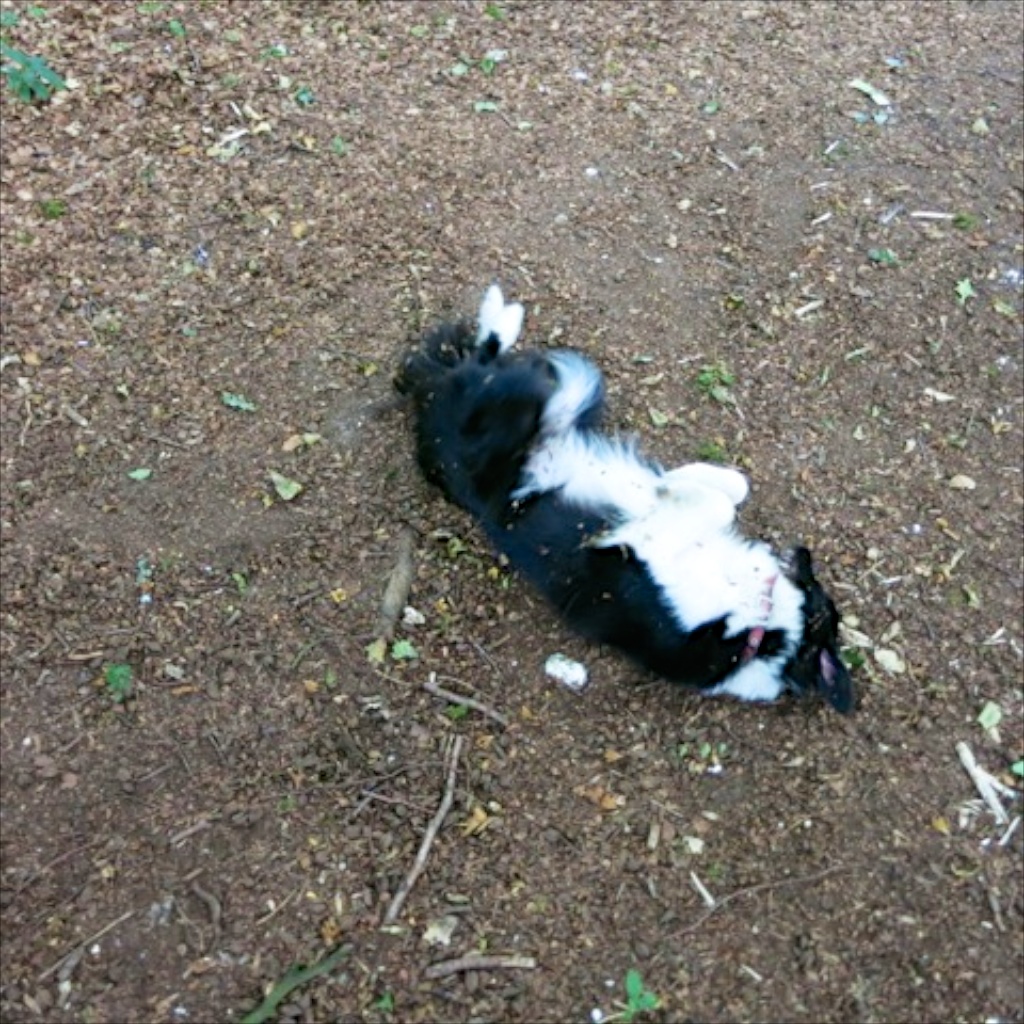 He comes eagerly to be groomed as soon as he sees the brushes, rolling over onto his back to have his tummy done long before I've finished with his back and sides. When this is over he wriggles vigorously, and at first I thought that he had stranded himself, but now I think he just enjoys doing it. Certainly he likes sometimes to do it when he's out, generally in woodland leaf mould.
One of the training areas I've worked hard on is the recall. This has generally been good from the start, but I need it to be better for all the places I take him. He returns well now, sometimes for a titbit, sometimes to play ball, sometimes only for praise.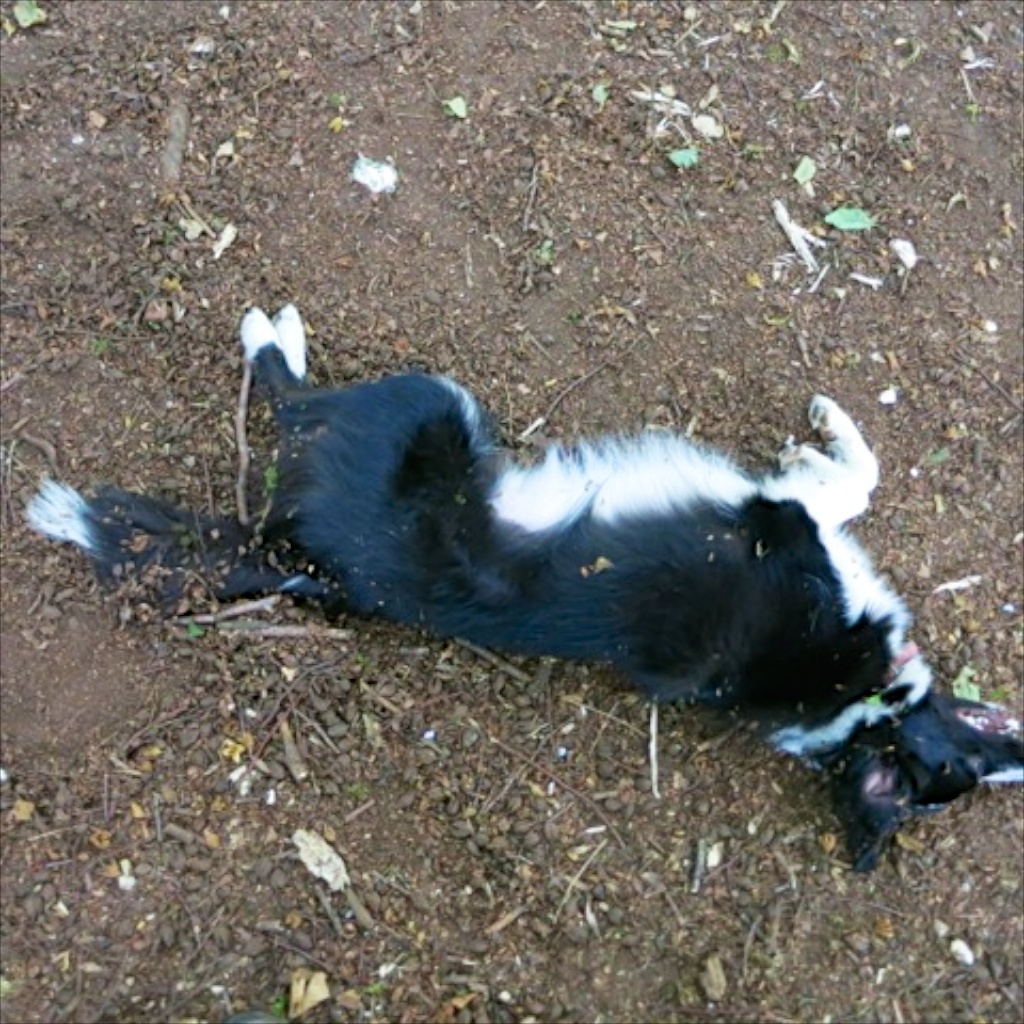 To make sure he keeps an eye on me I hide behind trees, I crouch in bushes, I run off in unexpected directions, and so Bryn is constantly looking over his shoulder, expecting me to do something stupid that he'll have to watch out for.
Recently he's become much more attuned to me and what I'm likely to want him to do. He only goes a certain distance ahead of me before glancing back to see whether he should carry on. He glares at ducks and swans on the canal, but on command (and on the lead when swans are around) he makes a visible effort to look away from them and up at me, or to carry on walking ahead. He'll sneak quick looks aside at them, but jerks his eyes away again without a repeated command. Less than a year ago his first instinct was to jump into the water and swim after ducks, so this is stunning progress, but I'm not taking it for granted just yet.
Coming home from a walk recently we caught a train from a rural station. A through train whizzed through with a rattle and gust of hot air. Bryn looked up at me, checking to see if it was a problem, then looked with interest at the passing train, and fascinated a couple who were waiting near us with his composure.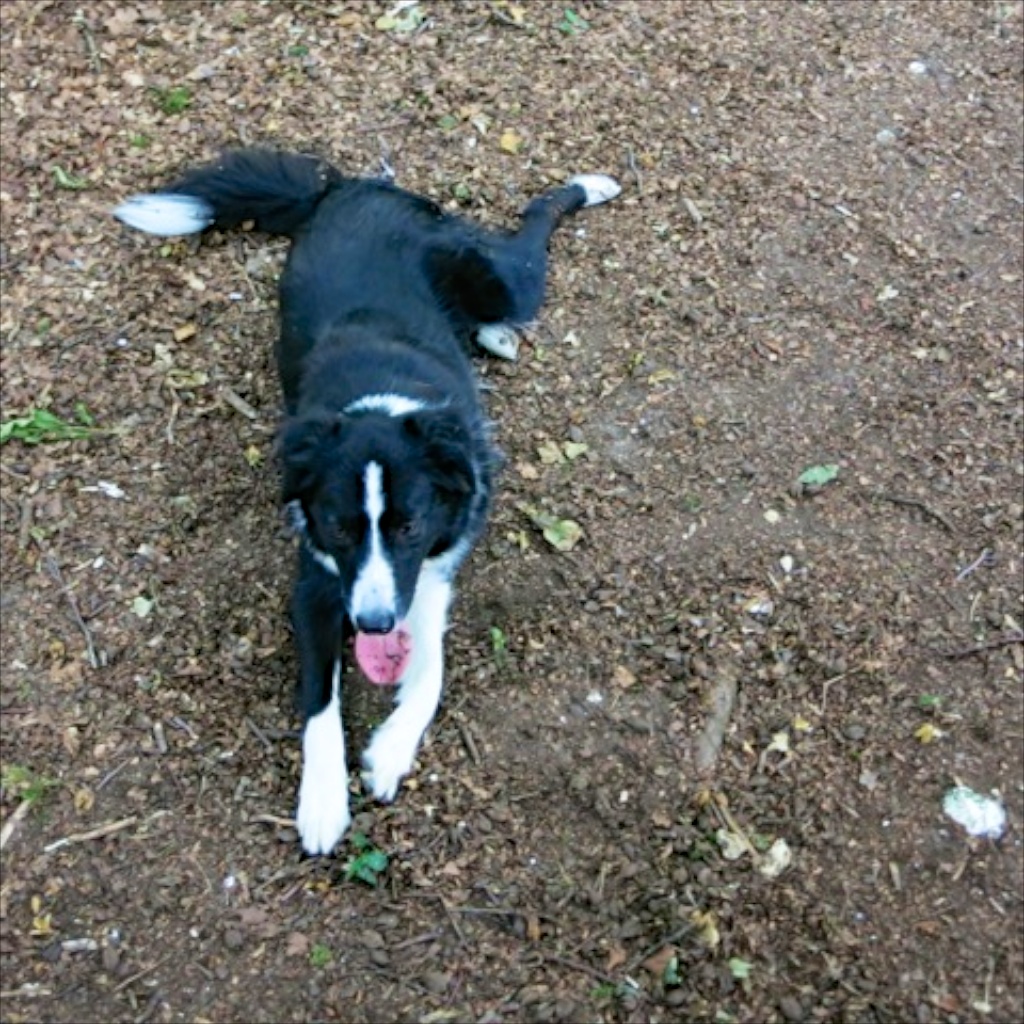 He's always barked at noises or movement outside the house. Now he looks over his shoulder, waiting for me to come and check out the problem, and then he subsides, satisfied that it's okay. His favourite station when giving the alarm is the ottoman in the bay window. He stands there, alternately glaring out as he barks, and looking back at me, willing me to understand there's a problem.
Bryn's used to travelling, to staying in different places, most of them regular haunts. He's as comfortable in towns as he is in the country, especially at weekend when there's lots of dropped food on the pavements. He's used to visiting friends, to going to pubs and restaurants. He's often welcomed in shops, especially in the West Country. He goes to the downs and the moor, to the forest and the sea, and we still have hazards connected with each of them – sheep, ponies, surfers – but in recent months I've been impressed by just how much Bryn has learned.
And now I see him wanting to understand what he should do, even if occasionally he chooses not to. I feel a distinct surge of pride in him when he comes back without command to walk to heel at hazard points, like a lane across common, on regular outings.
25 January 2015
ELEVEN
The First Snowfall – on Dartmoor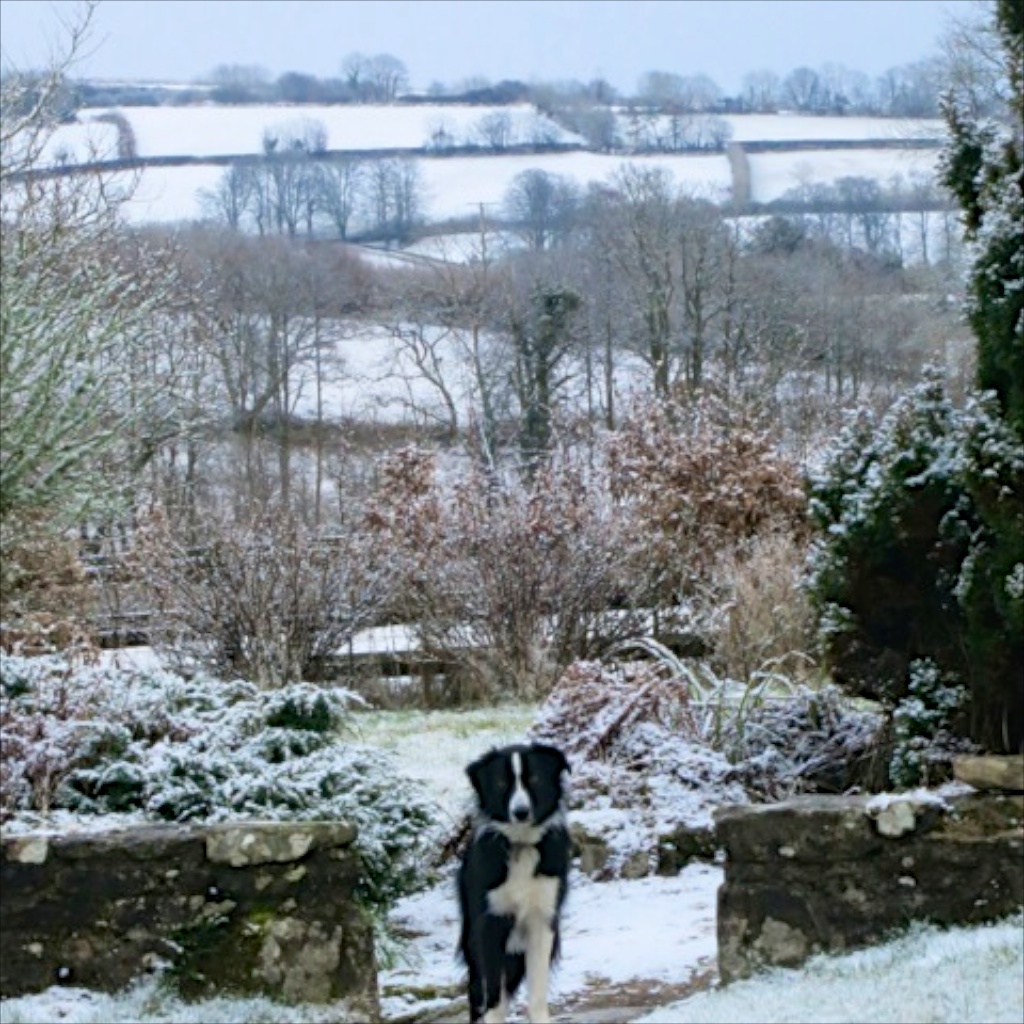 The first small stinging pellets of snow hit us as we walked over the exposed flank of one of Dartmoor's tors. Below us the sloping fields of the Webburn valley grew whiter and whiter before they were hidden by the thickening fall that quickly blotted out the view. It all but blotted out our way back to the car too, but fortunately Bryn took the path towards it without hesitation, keeping close to me until we got back to it. It reminded me of the time when I was caught out on the moor on my own in similar weather, when Tirn was too old to walk with me. I suddenly felt intensely vulnerable when the view was removed, and hugely grateful that I was close to home, with a wall to follow until I reached the lane. I had never fully realised before how much I had come to depend on my dogs' sense of direction, and how rarely I ever walked out without one of them beside me.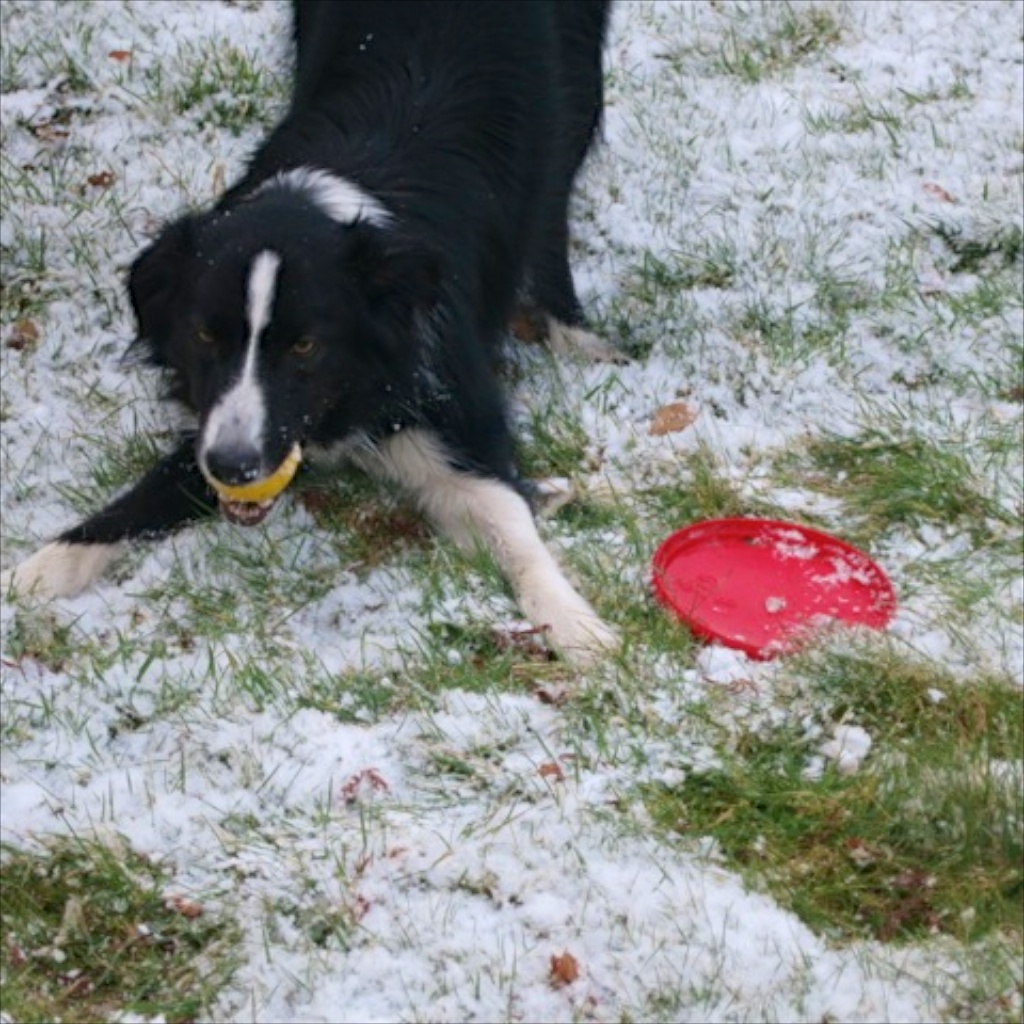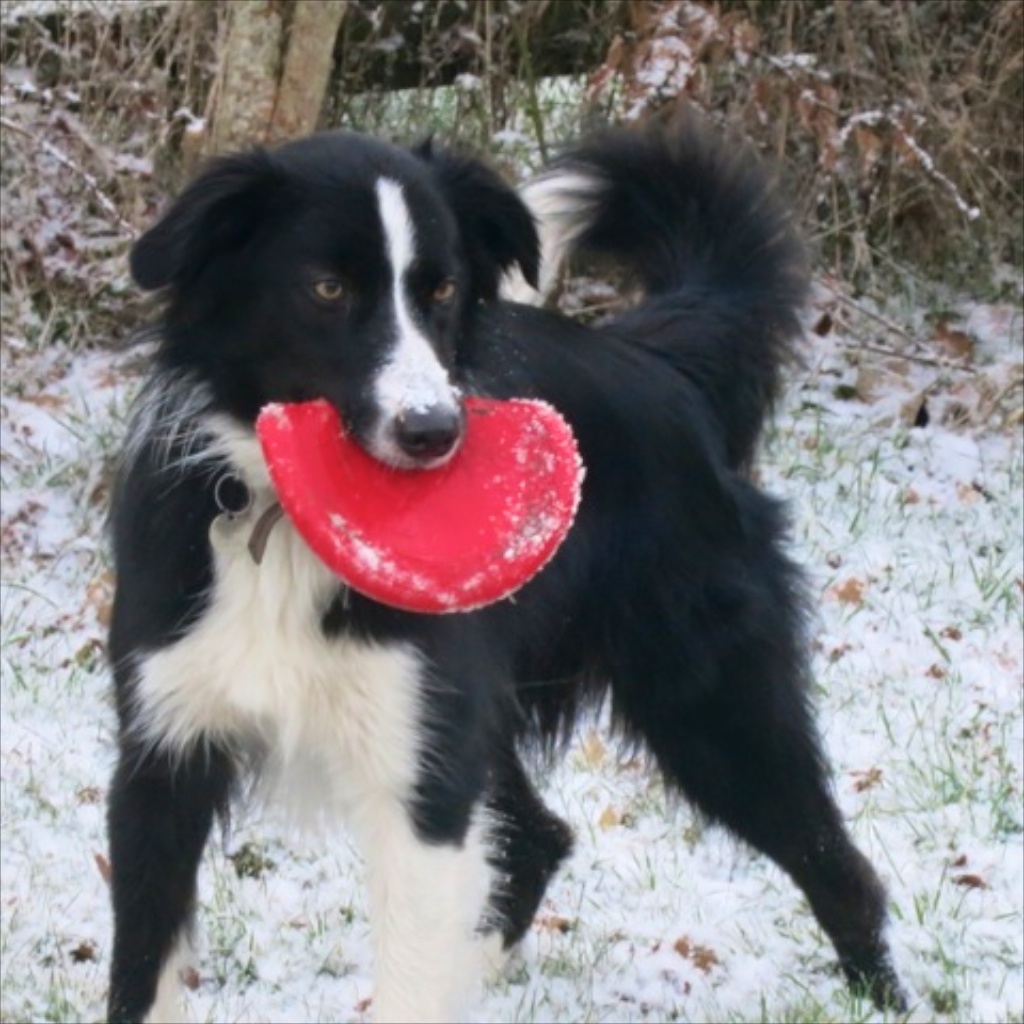 This first experience of snow was taken in Bryn's stride, but next day when he went out into a whitened world he was far more excited. He sprang around in the garden with his ball and his Frisbee, unable to decide which to offer. Eventually he wrapped the ball in the Frisbee so that he could carry both.
And once we were out walking on the Black Hill his excitement grew. His nose was constantly hovering over the ground as he wove backwards and forwards, following the scents that seemed to be much more delectable in the cold. His paw print patterns were added to the hoof marks that littered the sheltered hollows and the lee of gorse stands where ponies and cows had sheltered from the worst of the weather.
February 2015
TWELVE
Gardens in the Spring
Garden visiting is not Bryn's most favourite thing. But there are compensations. Other dogs, probably exchanging the same views as they greet each other on lead. Other people to fuss over him and exclaim about his beauty, his good behaviour, his youth, his gender (most people think he's female). He loves the praise, and so do I. But I know not to hang around for too long, otherwise he'll get over-enthusiastic and the good behaviour might slide.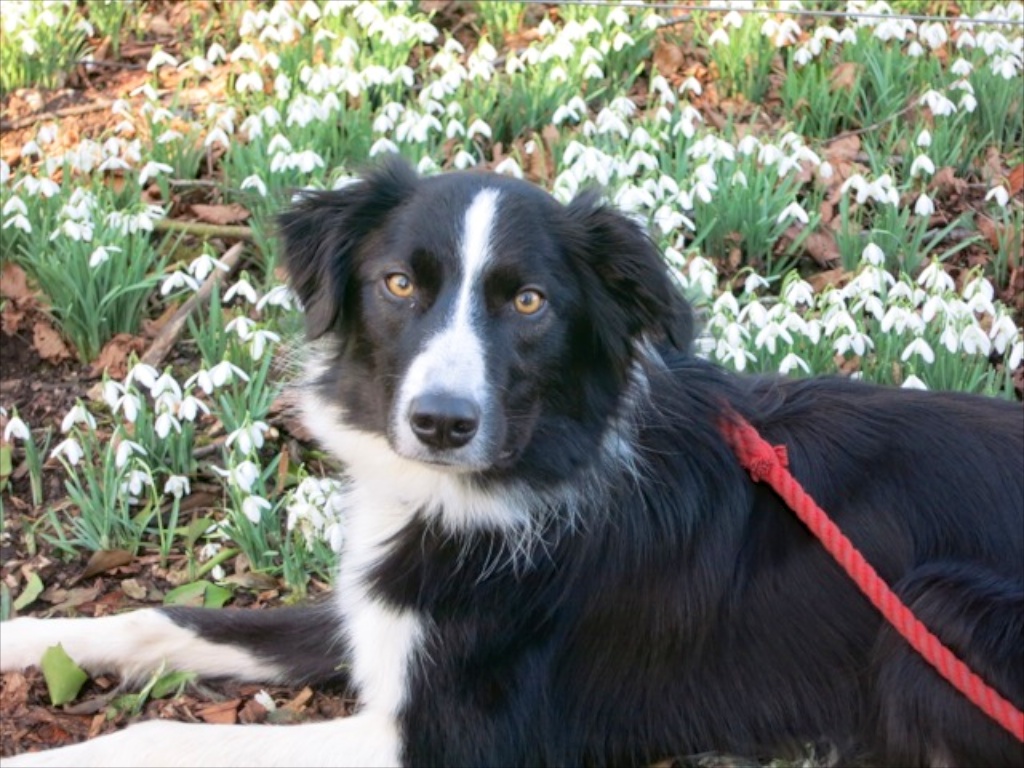 There are a few compensations for him. Some gardens have water to walk beside, birds to watch on it and areas to drink from, although paddling is not allowed. Some gardens have woodland areas, more open to wildlife and so more full of scents to interest a dog passing through.
Welford Park in Berkshire opens each year for the snowdrop season. This year was the first time he visited and it had everything that makes on-lead walking tolerable for him. Lots of admiring people, lots of other dogs to communicate with, lots of winding waterways, and a wide woodland to explore. He probably wasn't at all fussed by the carpet of white beneath the trees that was the expanse of snowdrops we'd come to see.
March 2015
THIRTEEN
Back in Cornwall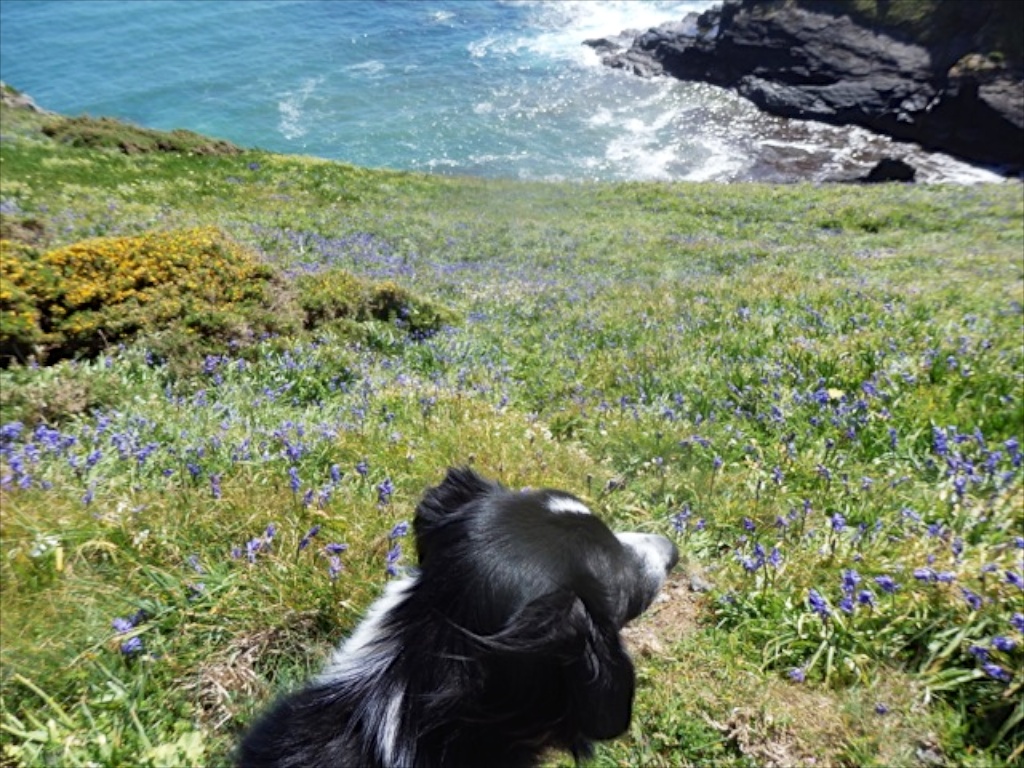 Bryn was yet again staring fixedly over the cliff edge, down to where the sea surged against the rocks in a swirl of white foam. I lost my nerve and put him on the lead. He'd been doing this every time I stopped to look at the view or take a photograph, and we'd walked out from Mullion Cove over an hour ago. He'd shown no sign of darting off, but that stare of his was growing more fixed, more longing, because in the two days we'd been in Cornwall he hadn't yet been into the sea.
He had been wildly excited to be back, his attention everywhere as we walked up the ilex avenue towards the cottage. Perhaps he took in the spreading carpets of bluebells and wild garlic, sheets of blue and white in the woodland. Perhaps he took in the perfume from the bluebells, which was subtle but definite at first until it was overtaken by the more pungent odour of wild garlic.
But he definitely took in the scent of badger and fox and rabbit. Their presence was evident to me too, but only visually, in droppings and scrapings in the turf and indented pathways through the flowers.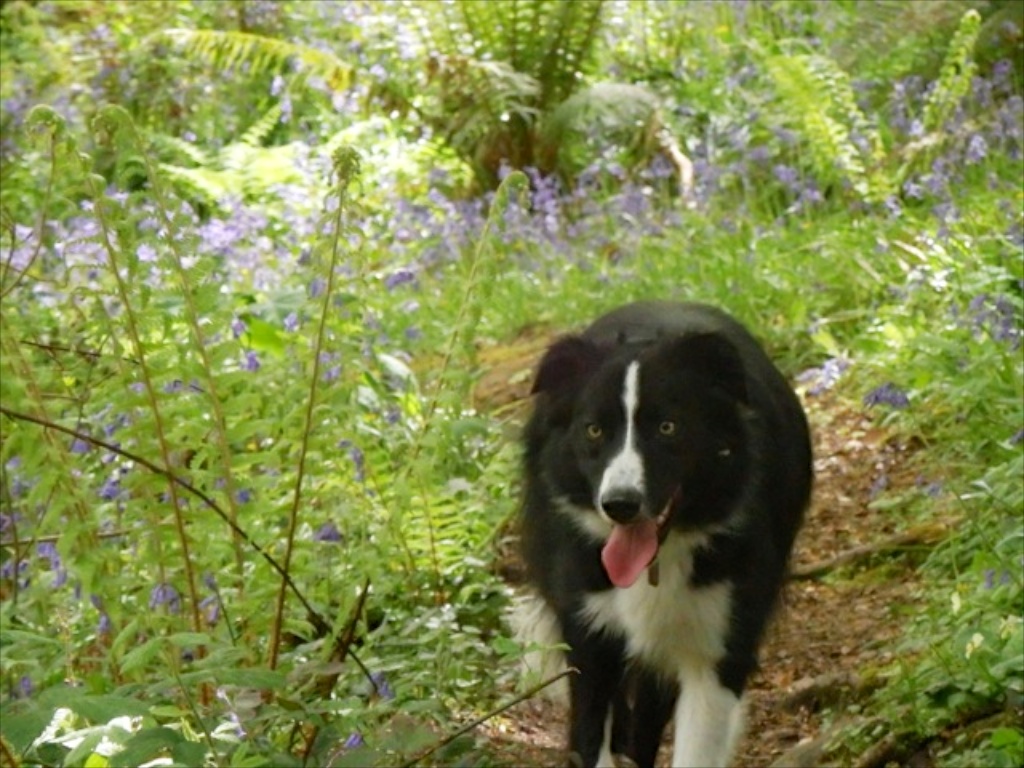 The excitement of arrival was maintained with the regular woodland walk down to the quay on the Helford, flanked with bluebells under the oak trees. And there were the cliff walks too, again leit-motifed with bluebells, spreading over the headlands.
These walks were very stressful last year, as Bryn was desperately keen to slither down the bank to the creek, and chase seagulls on the cliff edge. This year he behaved immaculately, walking to heel off lead with very obvious restraint.
The tide had turned on the Helford, the water was flowing back up the creek, rippling in the wind. Animal tracks led down from the dwarfed oaks on the steep bank on our right, running across our track and down the almost vertical bank on our left to the water. Bare slicks of earth showed where the creatures went over, and Bryn always paused at these marks, sniffing, to look hopefully over the edge. But he stayed with me, out and back, and only had to be put on the lead on the quay with its steep drops into the water. And there it was more for my peace of mind than as a result of his obvious intent to dive in.
This was true on the cliffside too. I didn't really think Bryn would rush over the edge, but he'd been so good I didn't dare risk a lapse. He had behaved immaculately, walking to heel with obvious effort as we walked up the steep slope of the cliff south of Mullion Cove. The sun was bright, the sky was blue, and everywhere there were spring flowers and blazing yellow gorse bushes. And everywhere was the scent and signs of the creatures who lived and visited here, added to the intense attraction of the sea.
It was good to be reminded that it was possible to walk in these places with a dog off lead, to enjoy the views and the bracing air. I've done it for years with Tirn, and with his predecessor. Now Bryn has shown that he can follow in their footsteps, quite literally.
May 2015
FOURTEEN
Summer beside the canal
Bryn is fascinated by the narrow boats that edge the canal in increasing numbers. The planks that lead onboard from the bank are sniffed with great attention, and he often shows signs of wanting to walk up them. He's learned to walk on by, and is especially good at doing this with a particularly jaunty air when dogs onboard are barking furiously, their faces pressed to one of the cabin windows. He's oblivious to the yellow lilies opening above the spreading masses of flat leaves on the water's surface. He'll eye the occasional duck out there, before turning away from temptation with an effort to continue along the towpath. But the thick fringe of plants that screens the edge of the Kennet and Avon canal hides a myriad of secrets.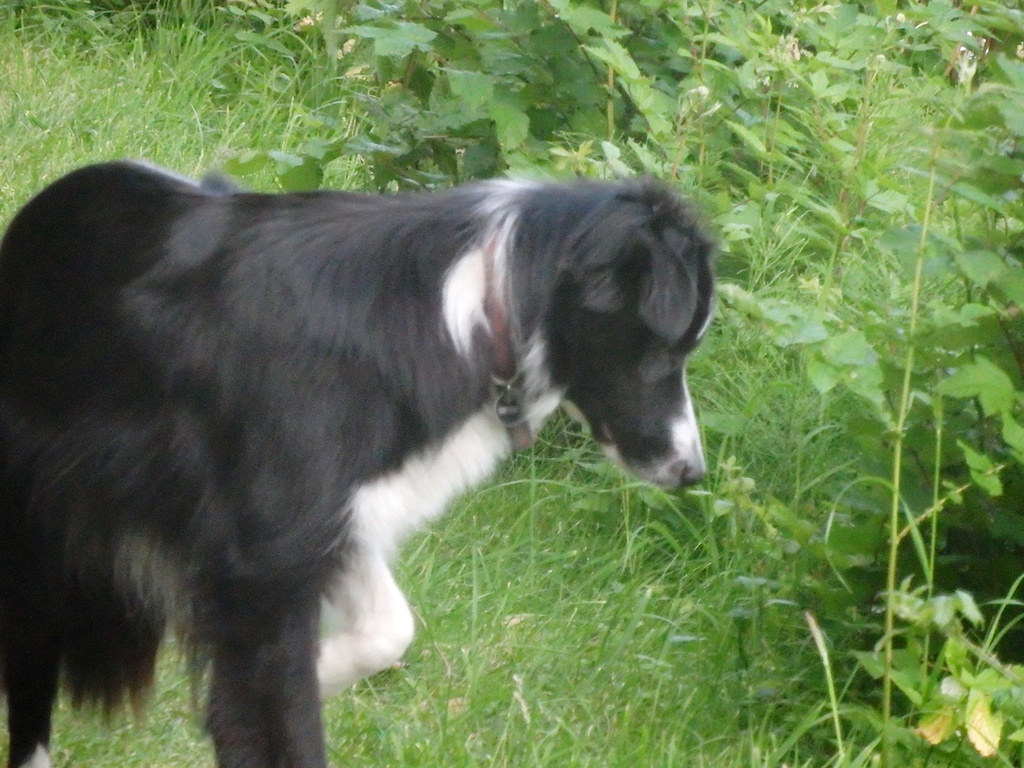 Bryn's constantly pausing by the tall stems of willowherb and meadowsweet, peering down and suddenly pointing with great intent, one front paw raised, ready for action. At first, as I sent him on, I thought it was always ducks he'd spotted hidden in the greenness. Occasionally one would lose its nerve and scuttle across the water to sit in the centre of the canal, glaring back indignantly.
But now I've realised it's more exciting than that.
I looked in at one spot to see what he was staring at and saw only a tiny flat grass platform. Next time he pointed I was beside him quickly, in time to see the tiny dark eyes glinting up at us. The small brown furry body was still only for a fraction of a second, before sliding over the edge into the water with the quietest of plops and disappearing into a hole in the bank below the platform. It was as if the water vole had a roof terrace to sunbathe on.
June 2015
FIFTEEN
Second Birthday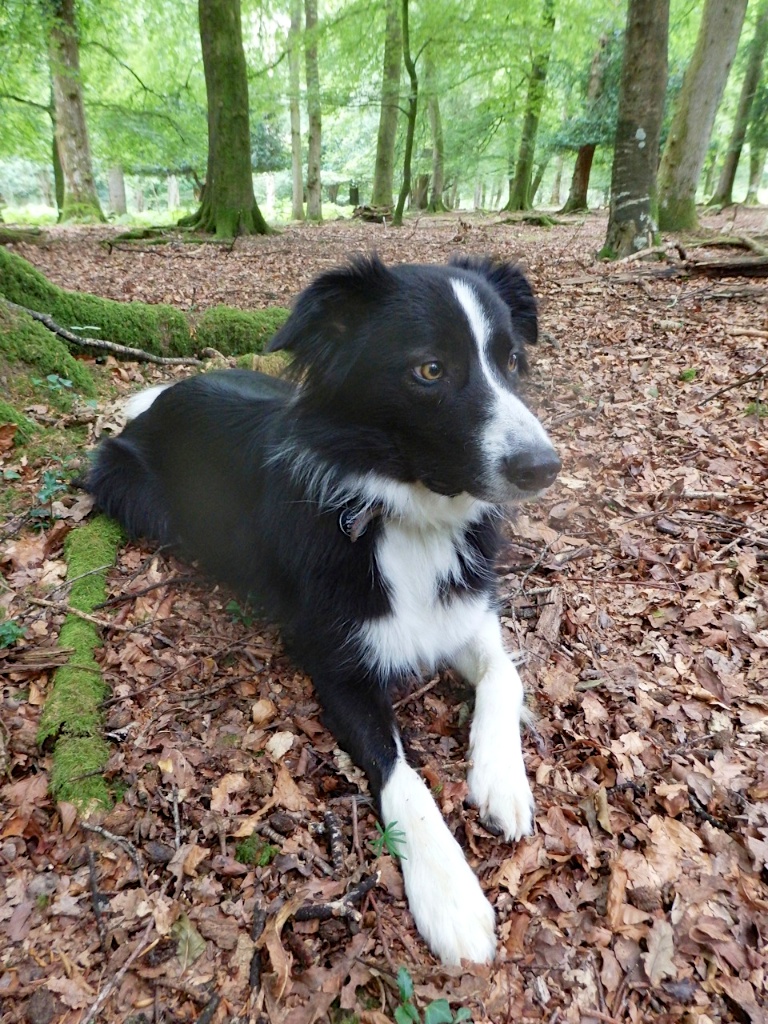 Bryn was wildly excited to be back in the New Forest. He ignored the herds of cows and horses in the distance, he wasn't impressed by the imminent explosion of blooming heather. The buzzing of the bees didn't bother him either. His nose was straight down to the ground, following a lovely rich fresh scent. He wove in and out of the heather clumps, his eyes bright with excitement, backwards and forwards over the ride, presumably on the trail of a recent fox.
He knew our usual route too, although he's only walked it a couple of times before. Going on further this time, extending his range here, added to his excitement.
The weather was kind, not too warm and not too wet. But it was an unnerving walk for me as the bracken has grown so high and thick that for much of the time it concealed a lot of other creatures that I didn't always know about. Bryn of course knew they were there long before I did, although at times the distinctive smell of hot horse was obvious to me too. And only once did the lurking presences get too much for him, when he made a sudden short dart to one side, startling the horse that was completely hidden in the heather into moving further into the trees.
Even out in the more open areas Bryn's attention was constantly ranging from side to side, occasionally fixing with startling suddenness on something he'd detected. But he was good, very good, coming back when I called if he ranged too far ahead, walking to heel when the undergrowth closed in around us, staying out of the water (because of my anxiety about Alabama Rot), lying beside me when I stopped for coffee and a picnic lunch – in carefully chosen places that had a wide range of vision, so that I could see anything approaching at least as soon as he did. And nothing did, although ponies ventured just onto the periphery of one clearing, their flicking tails betraying their presence. Bryn kept still, watching them closely, but wasn't disturbed by their proximity.
August 2015
SIXTEEN
On Dartmoor: 1 the River Bovey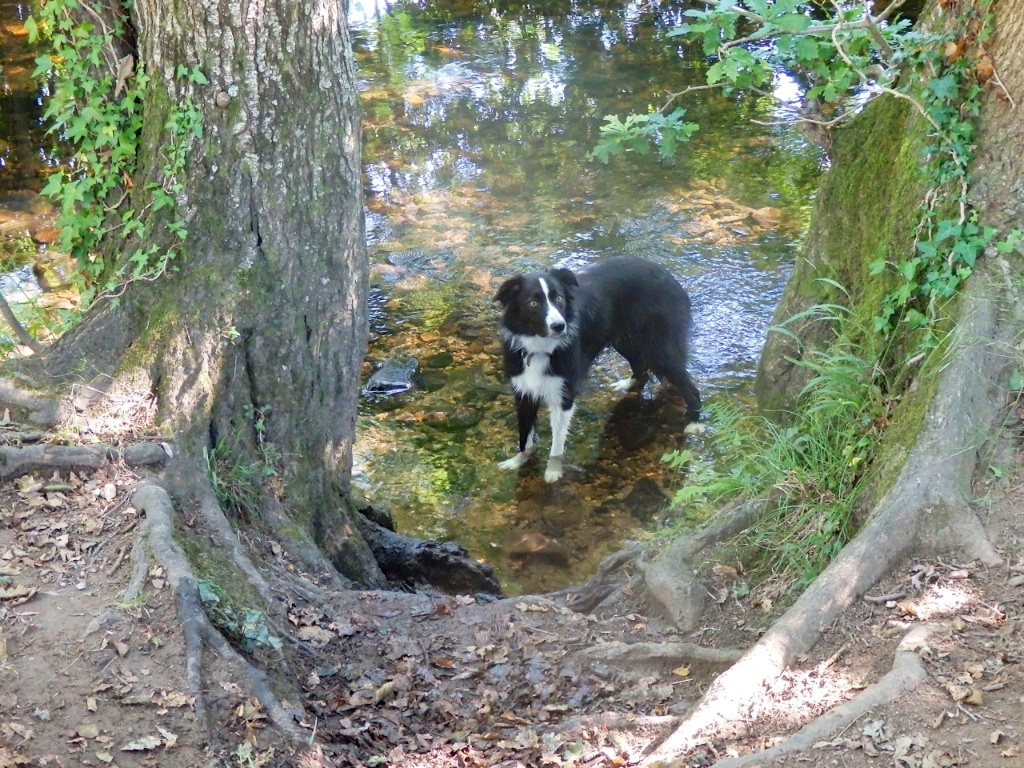 Bryn knew the river was where we were going as soon as I pulled the car into the clearing. We'd only been here twice before, doing this walk that took us out along the quiet banks of the Bovey, but he hadn't forgotten. The second time he was so sure of our destination that he persuaded another walker to open a distant gate for him, as the man explained when he passed me.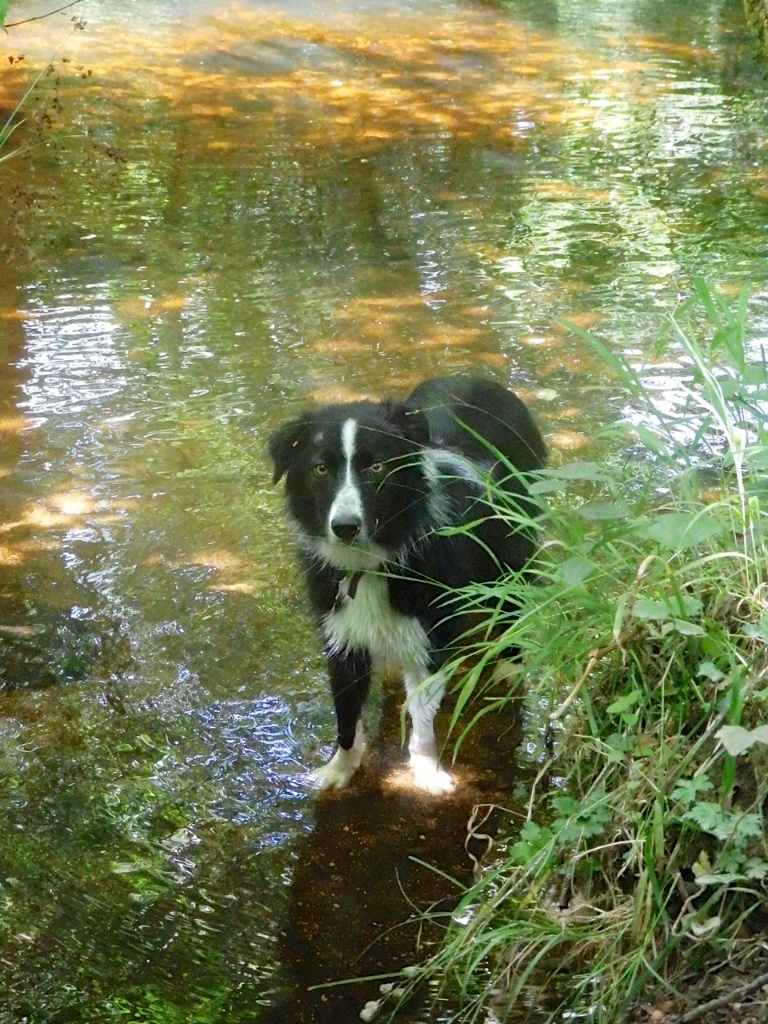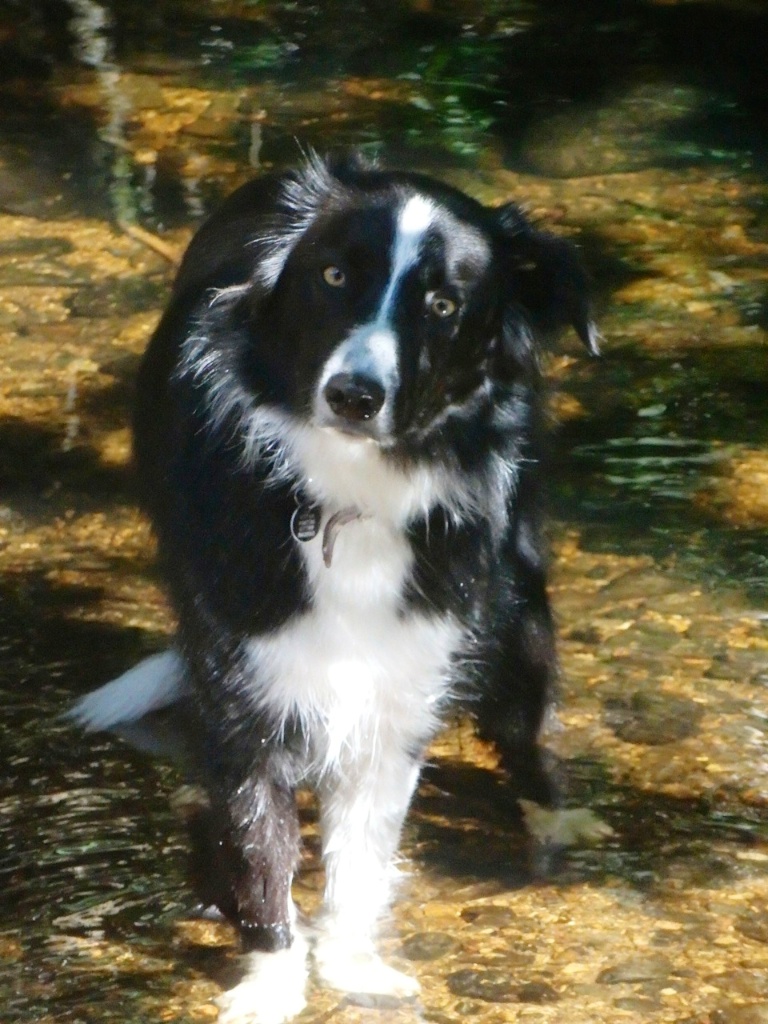 This time Bryn didn't need a person to help him on his way, he slipped through a gap in the fence, much to my anxiety. At this time of the year the river runs here quietly below overarching tunnels of greenery. Shafts of sunlight strike the water, bringing out the rich gold and amber of the stones below it. Kingfishers flash past, lighting the secret shadiness. This tranquil scene is not the whole story though. After heavy rain, and in the winter, the water flow is much stronger, and we'd had a lot of rain recently, so I was a little anxious until I saw his head just above one of the banks. It was only the white blaze down his nose that made him visible at first, but every inch of him that I could see betokened his intentness, willing me to arrive as he stared towards where I would appear on the path.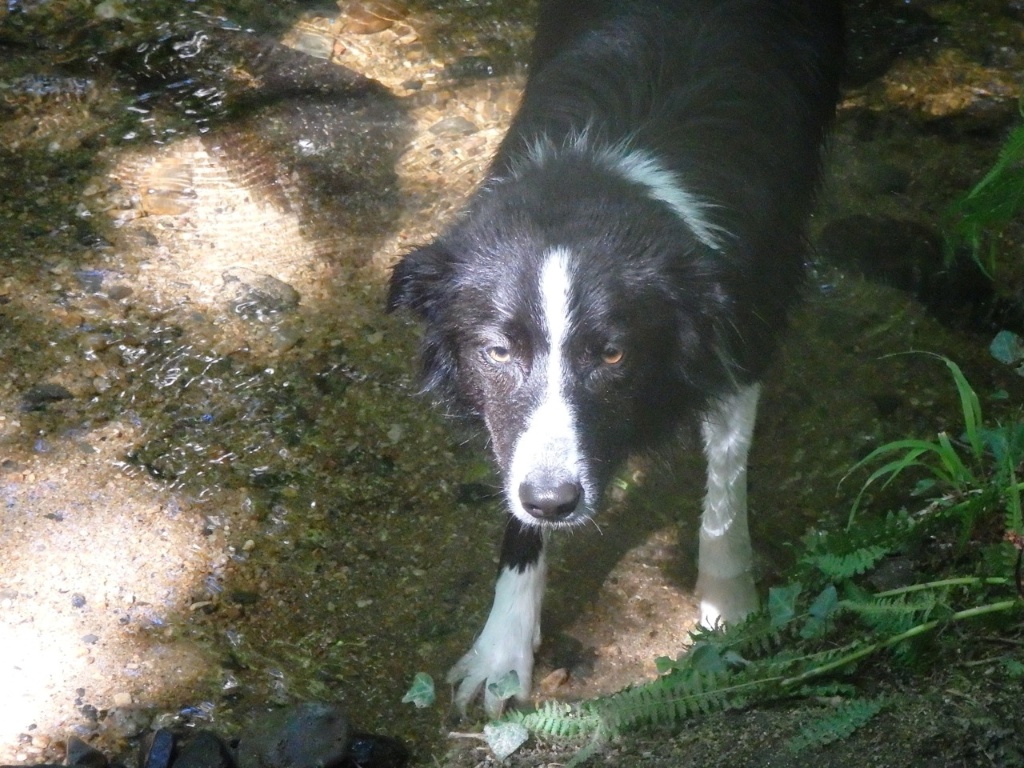 Then the game began. His ball was thrown into the water, only a careful distance at first, then further and further away as I became surer of the depth and strength of the current. Bryn has learned to only go in at certain points, both here and at another stretch of the river that he loves, but still we'll have to avoid this walk when the weather turns very wet. But now he could swim through the peat-brown water, although really I suspect that he prefers to stay with his feet on the ground and wade.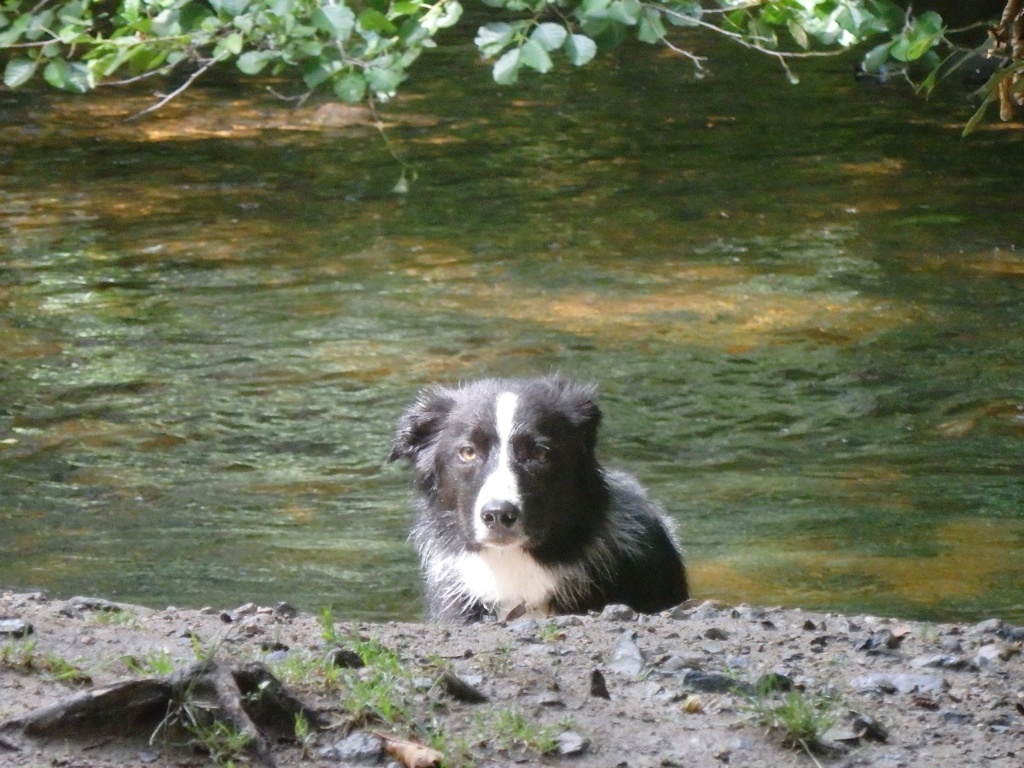 As soon as he comes out of one place he races of to another. On the stretch of river bank near Bovey Tracey, which is much more frequented by people, he races past other walkers, occasionally pausing for a brief greeting with a passing dog, but generally intent on getting to another play spot. If he's out of sight around a corner ahead of me I'm often told by a grinning walker that he's just flashed past. His sheer sense of purpose amuses them, which is just as well if his soaking wet fur has come anywhere near them.
August 2015
SEVENTEEN
On Dartmoor: 2 The foal
It wasn't an intentional meeting. We'd been walking for some hours over Hameldown, through the flowering heather and gorse. There'd been the wide-ranging views, good for checking the position of stock, for there are sheep, cows with calves and ponies with foals ranging freely here across the open spaces of the Dartmoor moorland.
We'd had to pick our way through a small herd of ponies to get to our lunch spot at Grimspound. A few lifted their heads as we passed, watching us calmly, but most continued to graze. It's the foals who are curious, inclined to come forward to meet Bryn, but we were going too fast down the steep slope for them to get close.
As we lunched among the ruined Iron Age houses of Grimspound it was sheep who came drifting closer and closer. Bryn watched them alertly as they drew nearer but we all co-existed amicably within the stone compound.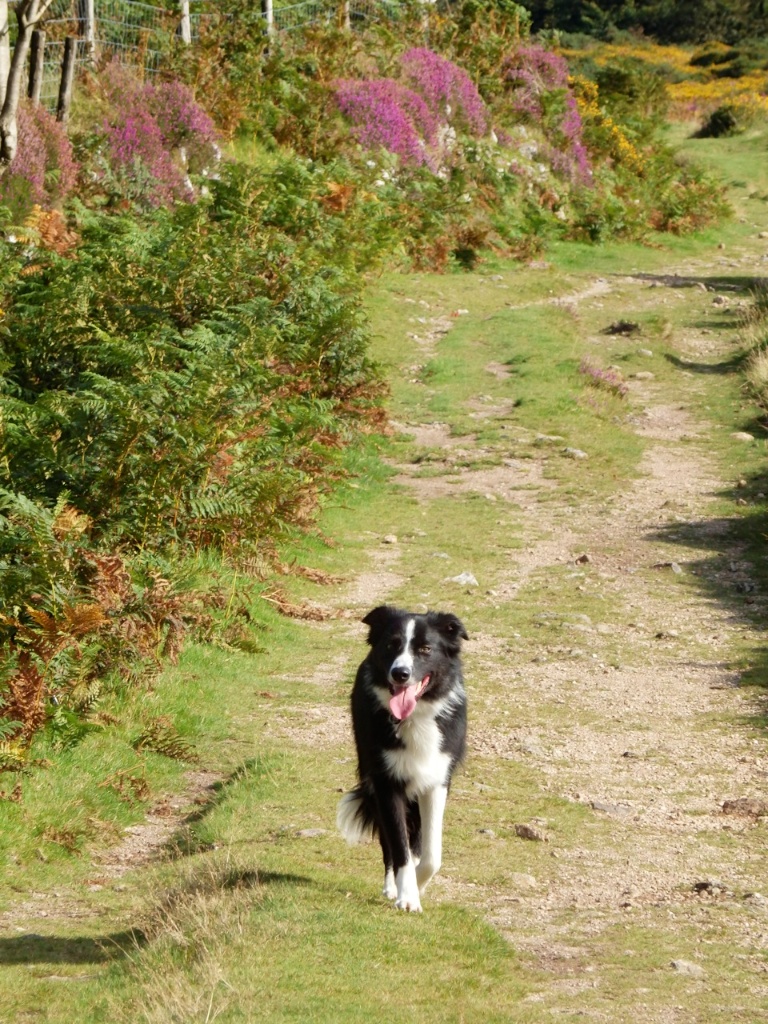 It was as we neared Natsworthy Gate, following the wall beside a fir plantation that the bracken stands became more prevalent, growing thick and tall, well above the height of my head. We were out in the open on the track when the scent of pony became very strong. I knew there had been a couple here recently, but there was no sign of them now.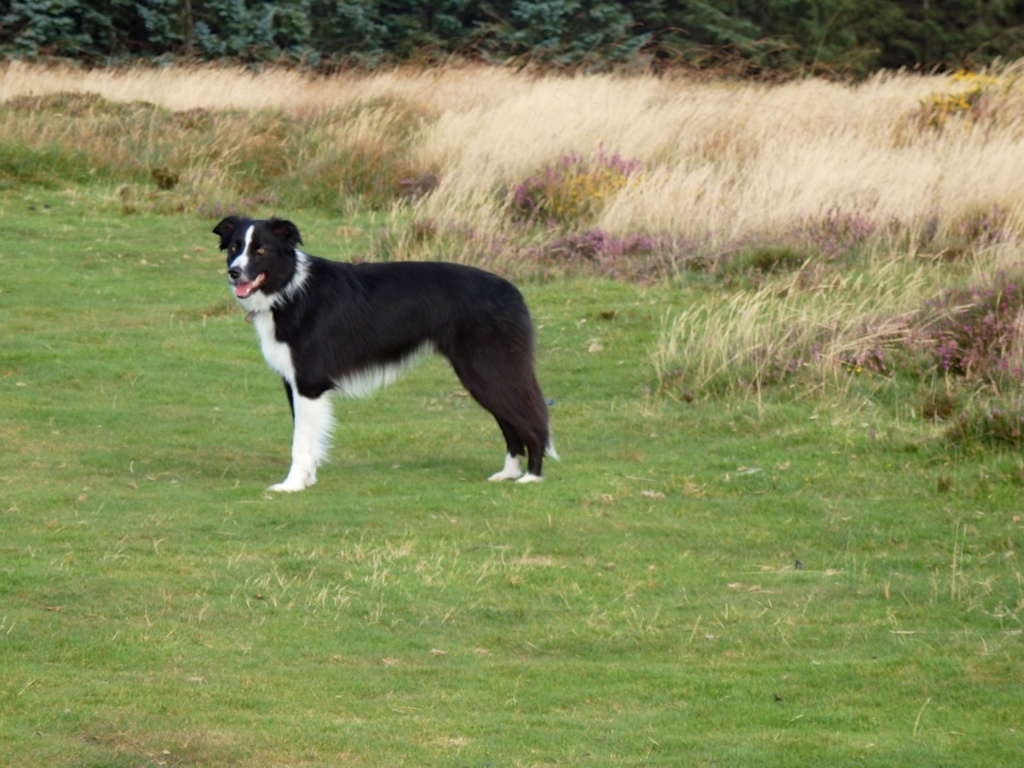 Bryn darted suddenly and eagerly into one of the stands and came out again a minute later. As I reached it I saw a tiny foal emerge, eager to prolong their meeting. At the same moment a mare snorted from deep within the bracken, the foal hesitated, then turned towards her mother as we walked on.
August 2015
EIGHTEEN
The Beach Boys
I've never been quite sure where any of my dogs have most enjoyed being. To be sure, the previous two collies lingered as long as they could in the sea when I walked away from it at the end of a visit. And Tirn, my last Border collie, would stand up expectantly in the back of the car when we reached the turning for the Cornish cottage and once refused for a long time to get into the car when I had packed to leave The Lizard.
But Bryn has been the first of them to really squeal with excitement when we get to the sea. At first, I thought it was when we reached places he already knew, such as Hayle beach. But strong winds made that a bit of a nightmare for a couple of weeks – rolling waves, tennis balls sucked out on the windblown waves, hordes of sea and sand surfers, clouds of blowing sand. I was just grateful that after his first foray to fetch a tennis ball on an incoming tide that was virtually being blown back by the wind, he reluctantly watched the next two float rapidly out to sea.
So we found other beaches that were more sheltered from the prevailing wind. And as soon as we parked near them the squealing from the back started, so Bryn knew – by scent or sight or sound – exactly what kind of spot we were in and that he could expect his deeply loved games of ball throwing into the sea.
The reluctance to leave the beach is definitely there, but as yet he leaps into the back of the car as soon as packing starts at the end of the visit. Although then he lies there morosely, willing me not to drive away.
September 2015
NINETEEN
The roller
Bryn has always liked to roll over onto his back and wriggle ecstatically across the ground. He sometimes wriggles into a circle, clutching his tail, but most often he just squirms ecstatically, propelling himself quite a distance.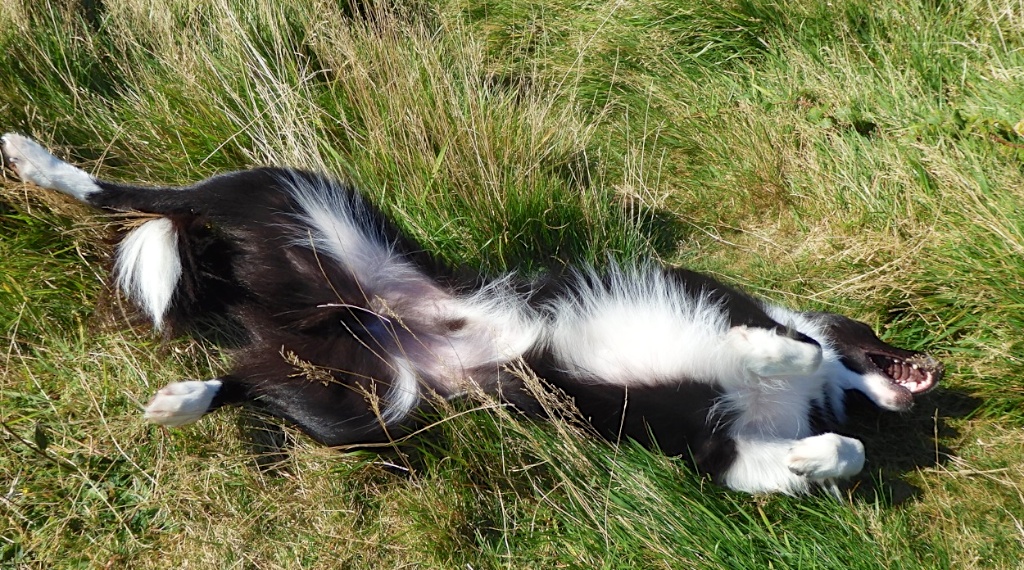 At first he seemed to do this only on grass, especially if there was an amount of fox/duck/sheep poo scattered across it. But now smelliness isn't the main attraction. He does it when we stop to rest during a long walk, rolling over at my feet and often wriggling for the sheer joy of it, pushing his head, mouth wide open, tongue lolling out, into longer grass if he can.
This habit may be responsible for the unpleasant bout of allergic rhinitis he had. A long period of light sneezing, quite common with him, became heavier snorting and heaving, until he was almost convulsively gasping for breath, but without in any way appearing distressed by his situation. Fortunately, antihistamines and steroids cleared up the situation this time. But his habit of pushing his nose deep into the undergrowth will persist; at least I'll know what's going on if he gets an allergic reaction again.
Recently another reason for his rolling was revealed, other than just the sheer fun of doing it. After a couple of hours playing in the sea Bryn was wet, very wet. When he came to join me at the foot of the dunes he flung himself down and wriggled deep into the sand. As he picked himself up I was astonished to see that one side of his face and body was covered in a light layer of sand. Brushing it off I found that he had dried himself nicely on that side. Since then it's been noticeable that rolling in grass dries him off too.
A third reason for the rolling and wriggling may be strategic. It encourages humans to bend over and stroke the creamy fur of his chest. And if they're unsuspecting new acquaintances they won't be anticipating his next move – paws around the neck, leaping up to lick the ears of the person bending over him. Their squawk of mingled laughter and surprise never fails to delight him.
TWENTY
What's lurking in the bushes?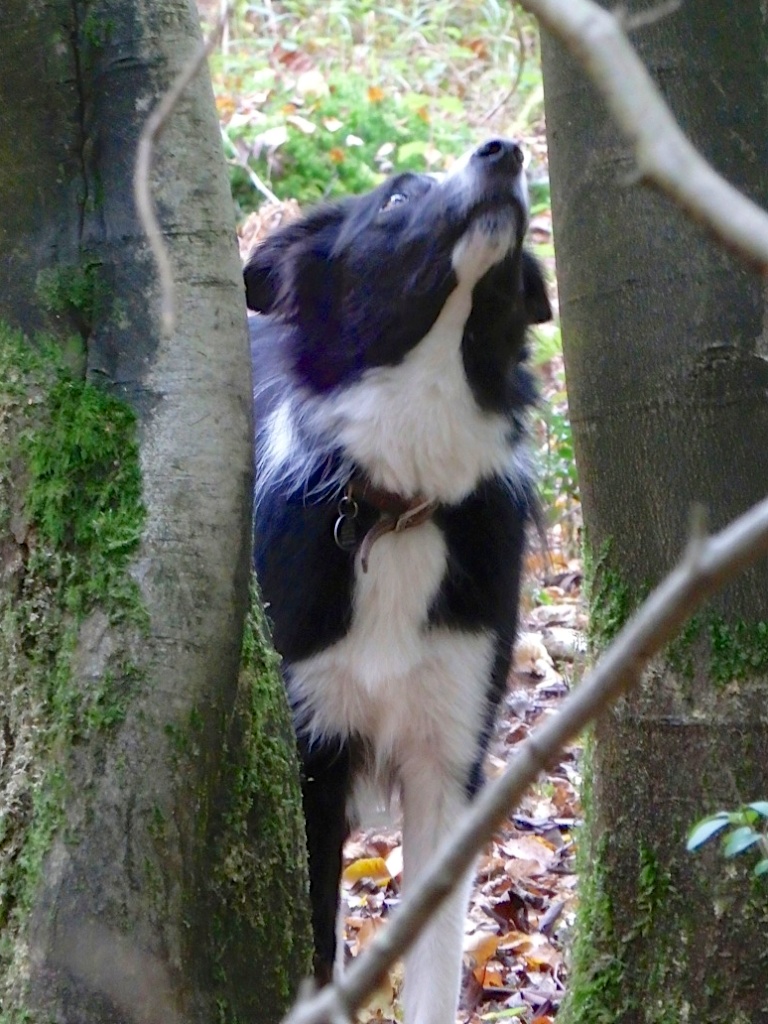 Autumn is an exciting time for woodland walking. Bryn is constantly on the alert, stopping to stare into the shrubbery, pointing into a thicket of trees, aware of something that I can't see or hear or identify in any way. If it's a pheasant lurking under cover, Bryn waits until the bird loses its nerve and rockets into the air and away. He doesn't chase it, but he's not going to pass it by and leave it hiding and ready to spring out on his flank.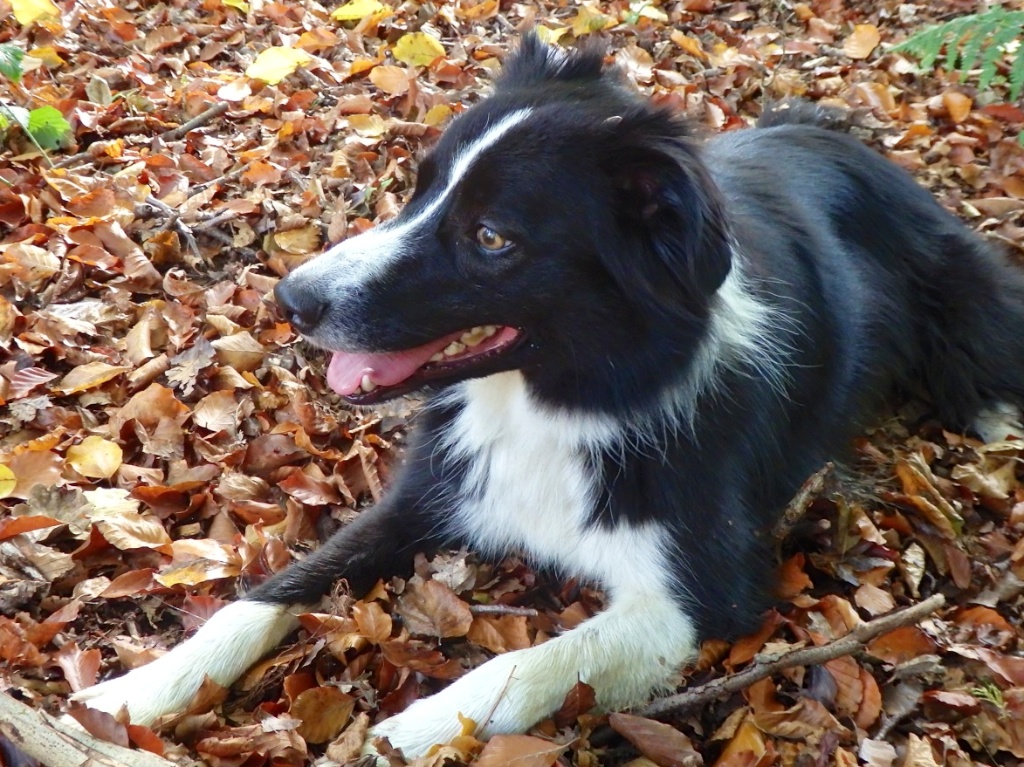 Sometimes his gaze seems to be higher and I anticipate a large deer bursting out in front of us. It has happened, but rarely, and there's been general alarm and shock for both the deer and me. Only Bryn actually knew exactly what was happening, and who was where.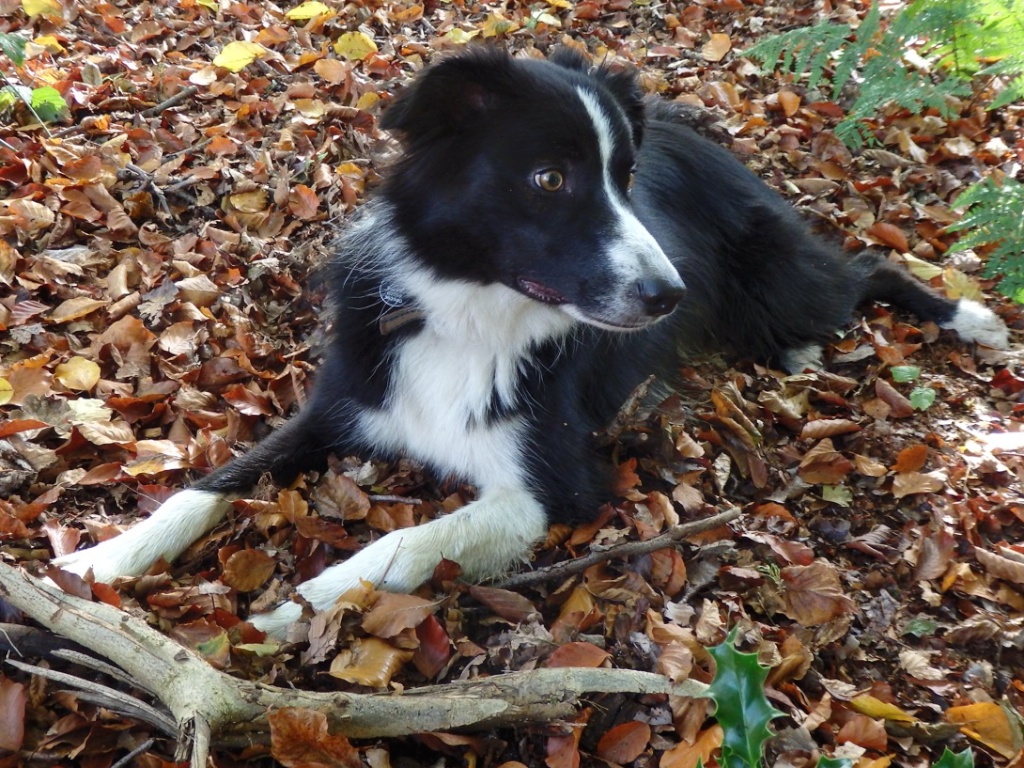 Most often he seems to find squirrels. I rather fear he would have liked the eighteenth century New Forest Boxing Day sport of squoyling, hunting squirrels. The only comfort is that he spends most of his time looking up into a tree where one has disappeared into the branches. It's the sudden race that catches his attention; fortunately, he doesn't have the true hunting instinct which means he has to catch his prey.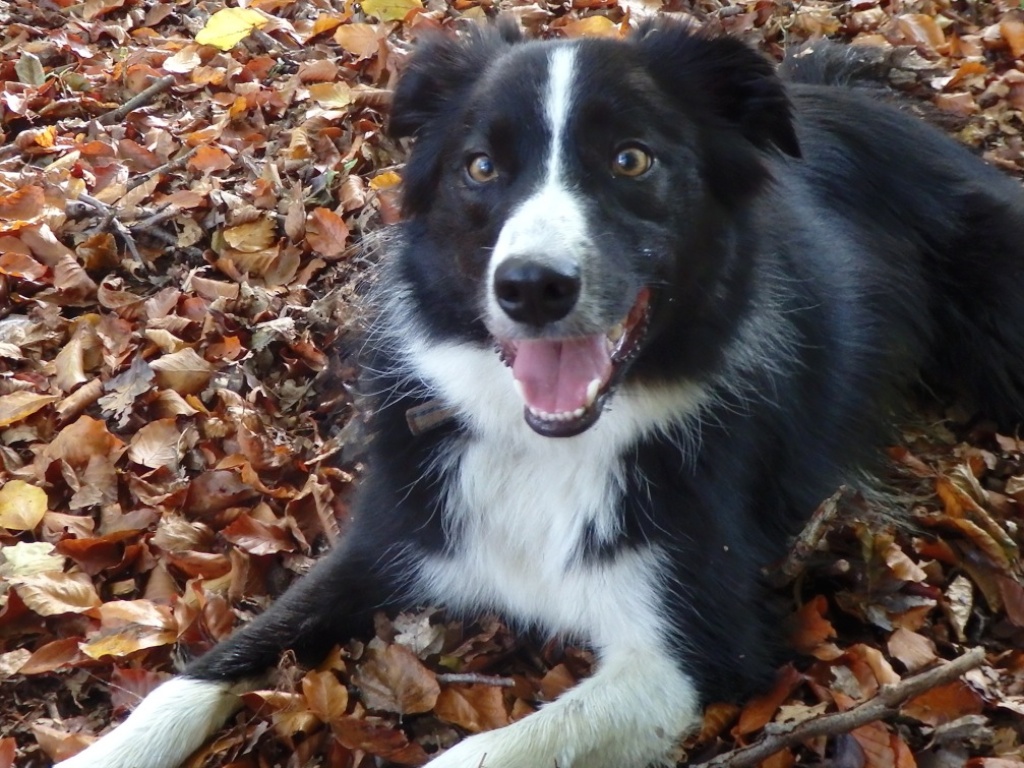 When we stop for a brief coffee break or a quick picnic Bryn will fling himself down onto the carpet of russet leaves. He may look as though he's resting, but he's ever vigilant, looking to the left, to the right, then up at me to check that I'm alert too. And he's only to pleased to be moving again when I get up – he's still too young to fully appreciate stopping on a walk to just sit around.
TWENTY-ONE
The new bed
We walked into a shop we know well, just to look round, and sauntered casually into the dog section. Bryn has always been welcome in the whole place, and evidently feels at home there, anticipating the fuss he gets from the shop assistants. When I dragged out one of the larger dog beds to look at, just out of interest, he lay elegantly across it, totally at ease, with his front paws crossed in his most relaxed attitude.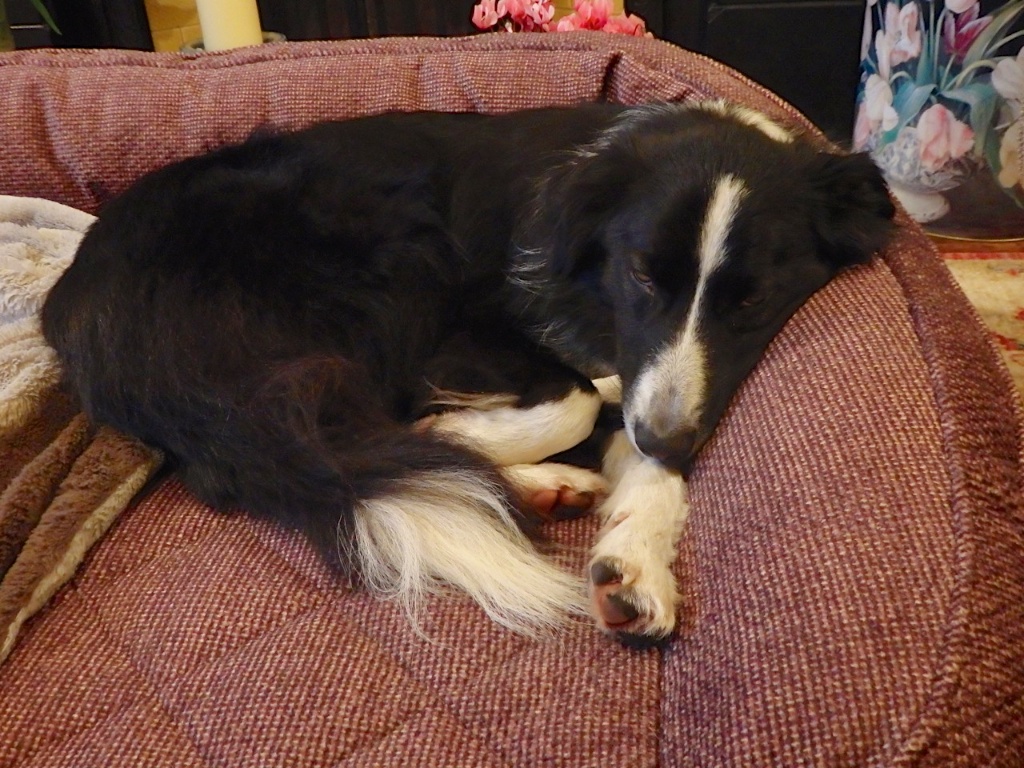 Inevitably we came home with the bed, stuffed awkwardly across the back seats of the car. As soon as the bed was put down in the sitting room in front of the fire, the traditional place for dog beds in this house, Bryn settled on it and went to sleep, with his head comfortably propped on the surrounding bolster before rolling over onto his back in his epitome of extreme comfort. When he stretches out he fills the length of the bed, when he curls up it seems very large for him, with plenty of space for an occasional friend to join him. But he loves being on it and rarely comes to sit beside me on the sofa anymore. In fact, if he's on the sofa while I'm busy elsewhere he'll often now jump off when I appear in the late afternoon with a tea tray. He'll either wait for me to settle myself before being persuaded to come back or he'll go straight to his own bed, and there's no doubt the latter is what he prefers to do.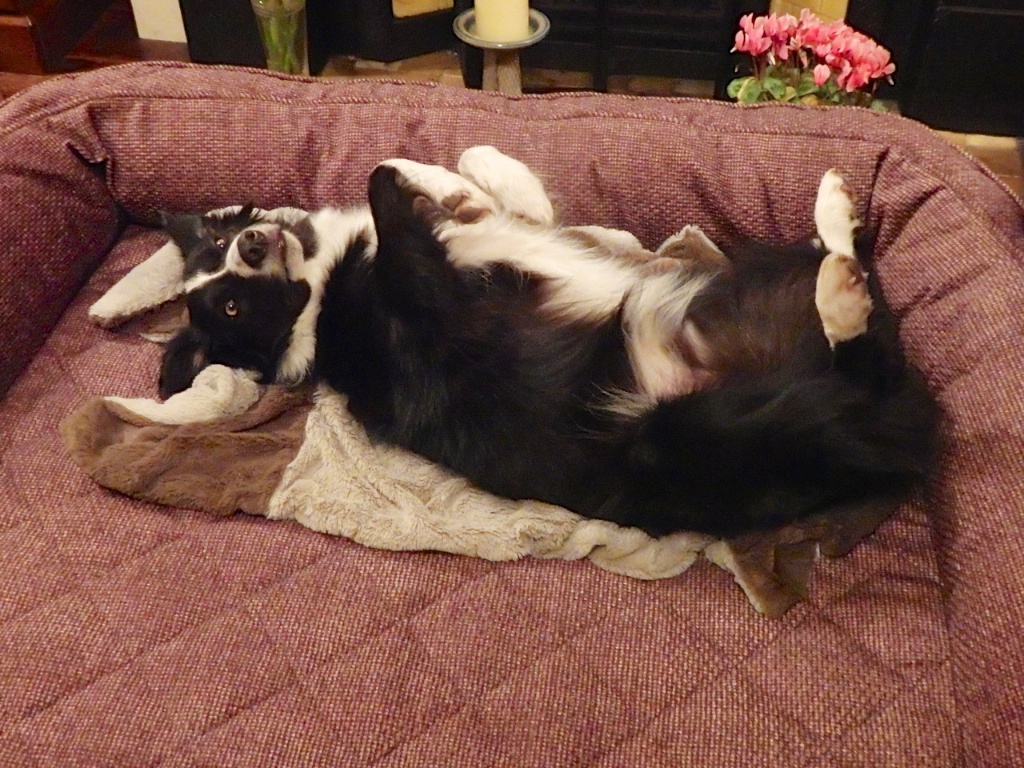 The young puppy who sprang up next to me wherever I sat down seems to have grown up very fast. Even the young dog who chewed everything around him, including the dog beds that were once Tirn's, has also grown up. Although he occasionally places his teeth around chair or table legs, it's now more a habit than the beginning of a chewing session. We seem to have passed another stage in our lives together – he's definitely no longer a puppy, he's maturing fast and wants his own space now.
TWENTY-TWO
Ancient villages – Chysauster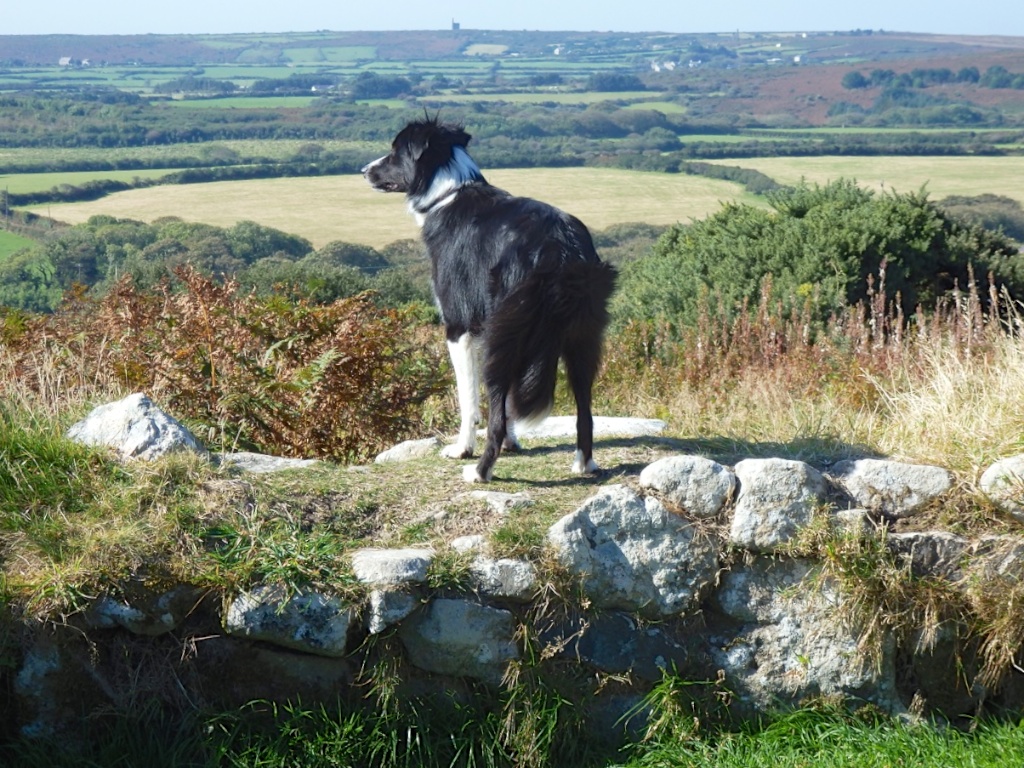 Bryn sprang up onto the low wall and stood poised for a minute, outlined against the bright Cornish sky. He had a stupendous view down over Penwith towards St Michael's Mount, as no doubt did many of the earlier dogs who lived here. But they wouldn't have been standing at his precise vantage point, for this was the remaining wall of an ancient courtyard house, built by a Celtic family in the Roman era. The dogs would no doubt have wandered through the streets outside, pausing to whiffle at the scent of cooking or to detect an intruder. As for Bryn, I'm sure that was he was lifting his nose to enjoy was the scent of the sea.
TWENTY-THREE
Adolescent exuberance
Bryn knows that he isn't to go down a particular forbidden path that leads to a cottage just above the Helford shore. So as I followed our familiar route along the creek he circled round behind me and darted down it at speed, keen to see what he was missing. As soon as I realized he wasn't with me I called out, and my companion, coming up from some distance away, saw a black and white streak on the path below. Bryn raced all the way along it to emerge at the far end and come back to join me, catching me by surprise by panting up cheerfully from behind.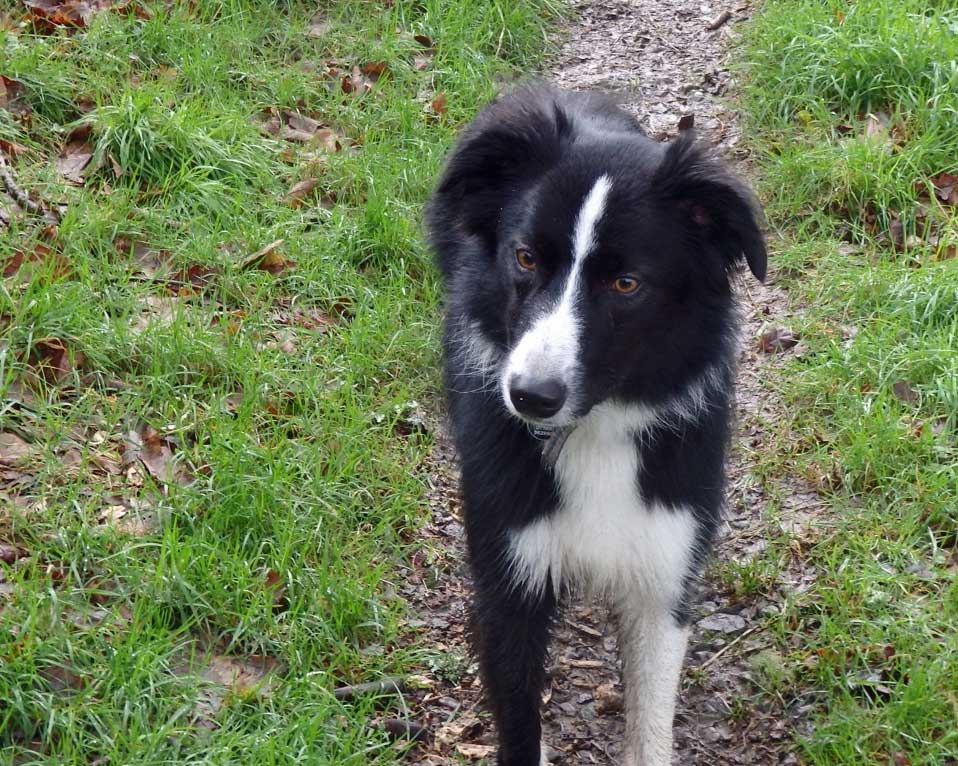 Bryn loves this narrow path along one of the Helford creeks where the tide comes in stealthily, green water flowing silently under the bare branches that half hide its movement. The peace is only broken by the call of an occasional curlew or oystercatcher flying by, briefly visible beyond the trees.
The bank on this side is steep, almost vertical, about twenty feet high, threaded with the roots of oaks and beeches, screened with curtains of ivy. Until the tide is in, there is a wide expanse of mud, glistening greyish brown, on either side of the central channel of the creek, looking falsely solid to the unwary.
On Bryn's first visit here he could finally not bear to be away from the water and rushed down to it just where the stream comes out of the woodland to the creek. Fortunately the mud here was not so deep, but for a young puppy it was quite enough and he had to struggle to get out of it.
For two years now he has studiously avoided repeating this, but on this latest trip, just before we turned up into the woodland, he couldn't resist the pair of mallards quacking temptingly at the foot of the bank. One second he was pointing downwards, glancing back at me. Then, before I could draw breath, he'd gone over the edge, and by the time I got there the ducks had flown away and he was galumping in thick glutinous mud, pulling his long legs laboriously out of it and scrambling onto the stones nearer the bank. For a moment I had thought I'd have to go down to haul him out, so I was relieved to see his excited eyes staring up at me. They became slightly puzzled when I encouraged him to come back up, as he suddenly realized what a slope there was between us. A brief hesitation, then he marked a route and scrambled up an almost vertical incline, reappearing filthy and happy, almost oblivious to the fact that I was very cross, as well as very relieved.
December 2015
TWENTY-FOUR
Bryn's Games – Hiding the Ball
He knows this Dartmoor riverside walk well, especially the pebbly beaches on the curves in the summer, and the sloping earth paths down to shallower water. He'll run from one to the other, knowing that these are where I'll play ball. Other dogs, other walkers are ignored, his attention is fully fixed on the game we're going to play.
That's me throwing a tennis ball into the water, far enough for him to swim out to grab it and bring it back to me. And that's something he wants me to do again and again.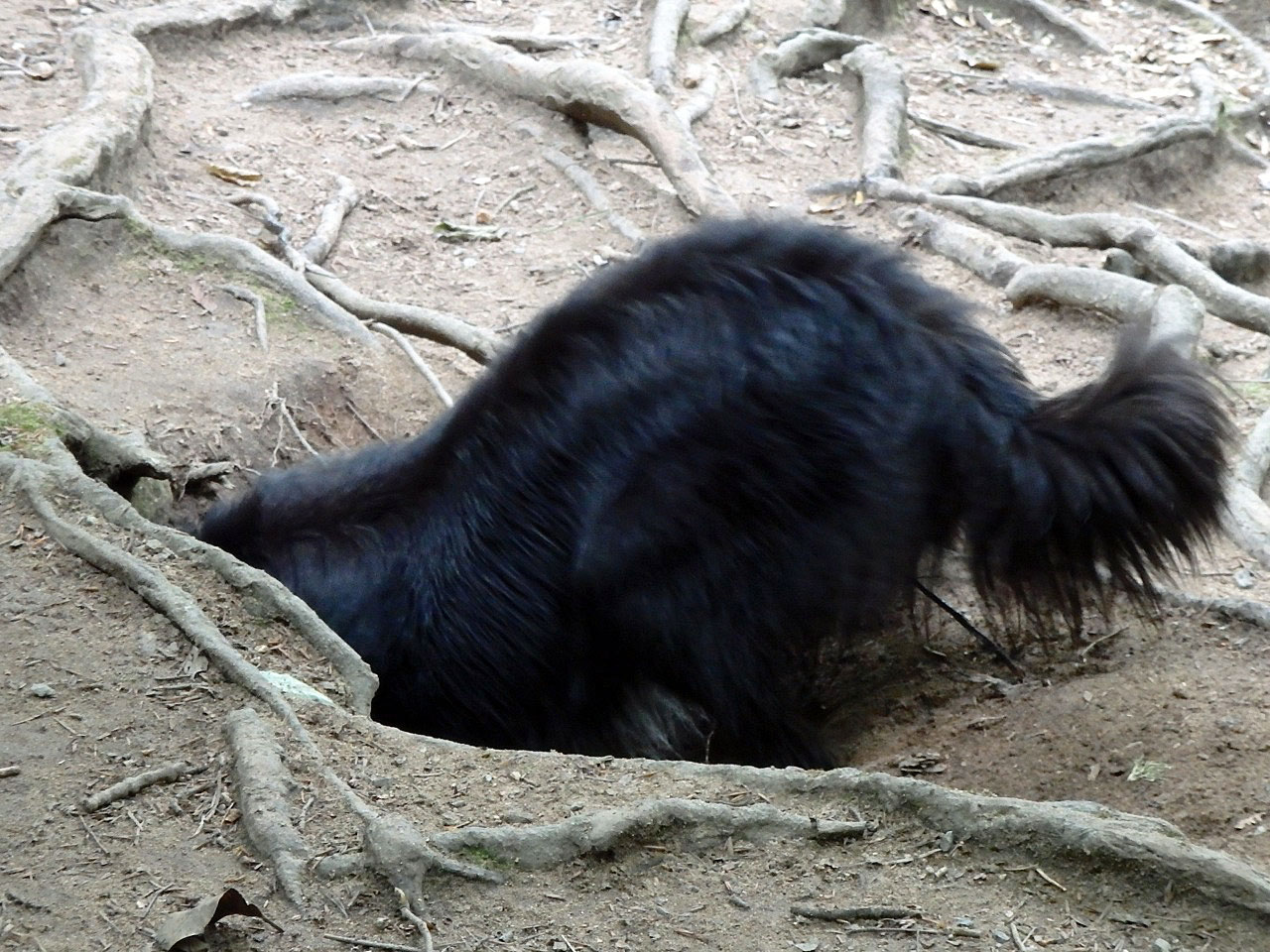 But he adds his own twist to the game. He can bring the ball back, but doesn't always hand it over. It's become much more fun to make me work for it. He'll put it carefully down a slope and watch expectantly for me to try to grab it before it rolls back into the water. There's a web of roots in another spot that holds the ball securely, and he always hopes I'll totter over them to prize it out.
And the best game of all is at the bank with a conveniently excavated hole, like a badger sett, but actually made by hordes of dogs scrabbling there. The ball placed precisely on the earthy side will roll down into the hole and become wedged. To get this I'd have to crouch on my hands and knees. It's fortunate that it's much easier for Bryn to retrieve, pushing his head into the space and grabbing the ball, emerging with an earth-covered nose.
It almost seems mean at times to ignore his attempts to involve me more in this particular game. But I do.
TWENTY-FIVE
How to negotiate stiles
It's surprising how many kinds there are. Fortunately where we go down on Dartmoor and the Lizard we don't encounter the ones that are heavily wired to prevent stock escaping. There are the more easily negotiated stiles made of planks of wood, often with a dog gate that can be lifted in one way or another. There are the more recent ones, with an angled bar of wood that I can step over and Bryn can pass under – these though must be to keep ponies and cattle contained, as sheep could easily get through.
But some Cornish stiles took a while to get used to. I often seem to face eight-foot high granite walls with projecting stones along the sides that act as steps up. Bryn waits patiently for me to scramble up, then springs up to join me. We balance precariously on top of the wall, at least I do; he seems at home, and then the process is repeated to go down.
He watches me in surprised patience and takes himself over the wall in one or two quick bounds. At first this meant vertical scrambles up or down the wall, but after I showed him, he got the hang of using the steps.
And on Selborne Common in Hampshire we came across the v-stile. When we first came across one, Bryn wouldn't watch my demonstration of how to step through it. He was too preoccupied with where a pheasant had scuttled off to, and eventually I had to take his collar and pull him reluctantly to the step. All of a sudden he got the idea and leaped through the gap. When we came to the next one he didn't hesitate to follow me.
TWENTY-SIX
Bryn's thirst
Bryn always works up a terrific thirst when out walking, or, in his case, running. He learnt early not to drink seawater. I learnt with my first collie not to let my dogs drink puddles. Both cases usually end up with a dog being sick in the back of the car. Or worse.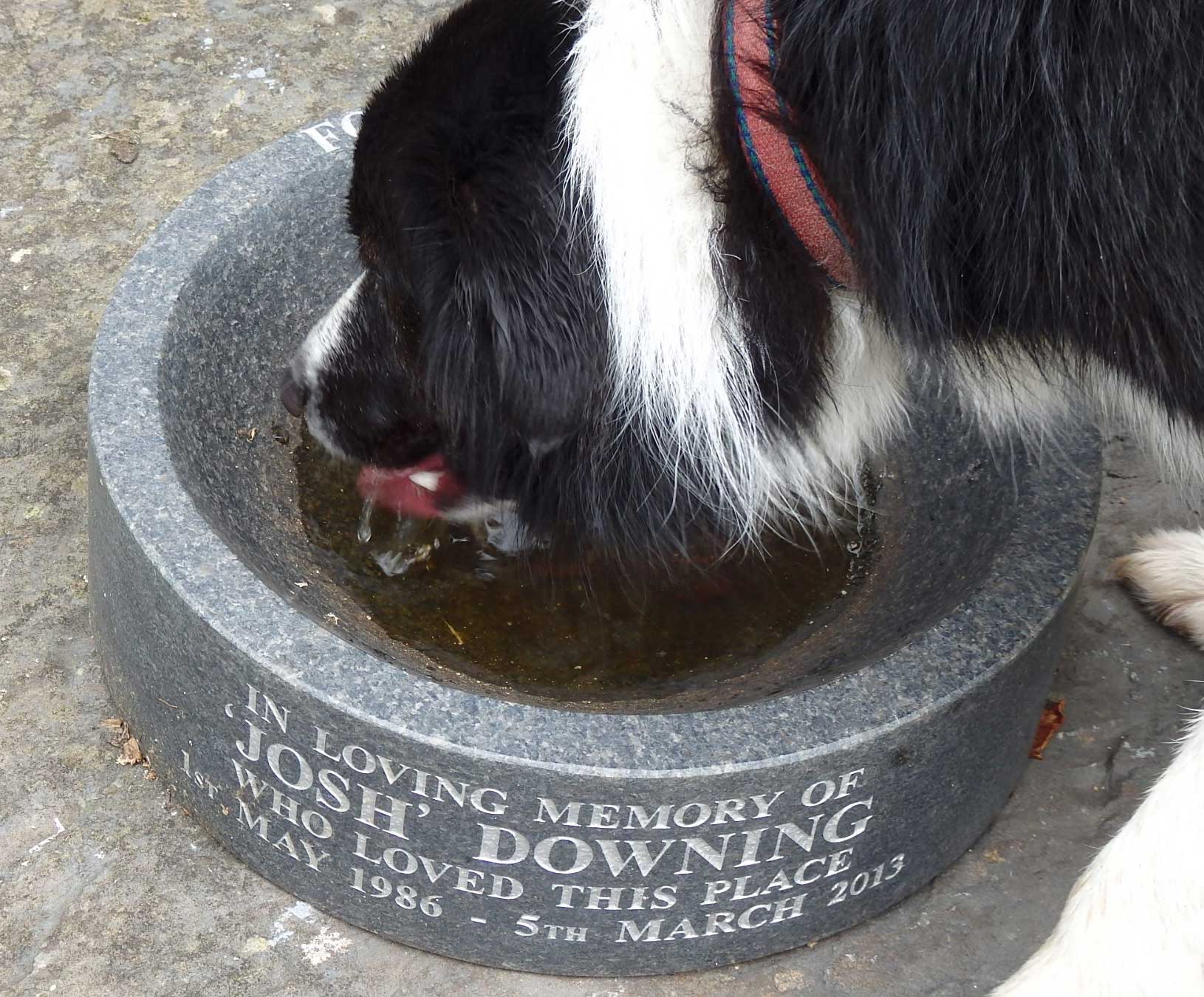 This is one of my favourites, outside the church in St Anthony-in-Meneage, right on Gillan Creek, one of the inlets off the Helford river in Cornwall. 'Josh' Downing's lovely water bowl gives so much pleasure to other people and quenches the thirst of their dogs who all love the place that he did.
12 January 2017
TWENTY-SEVEN
In the Dart gorge
The heavy rain has brought dry moorland streams back to life, and one of them fell in a series of falls down towards the Dart – meaning that we had to cross a wider stretch of water on the path than I had anticipated. Bryn took the opportunity to have another drink of the clear cold water.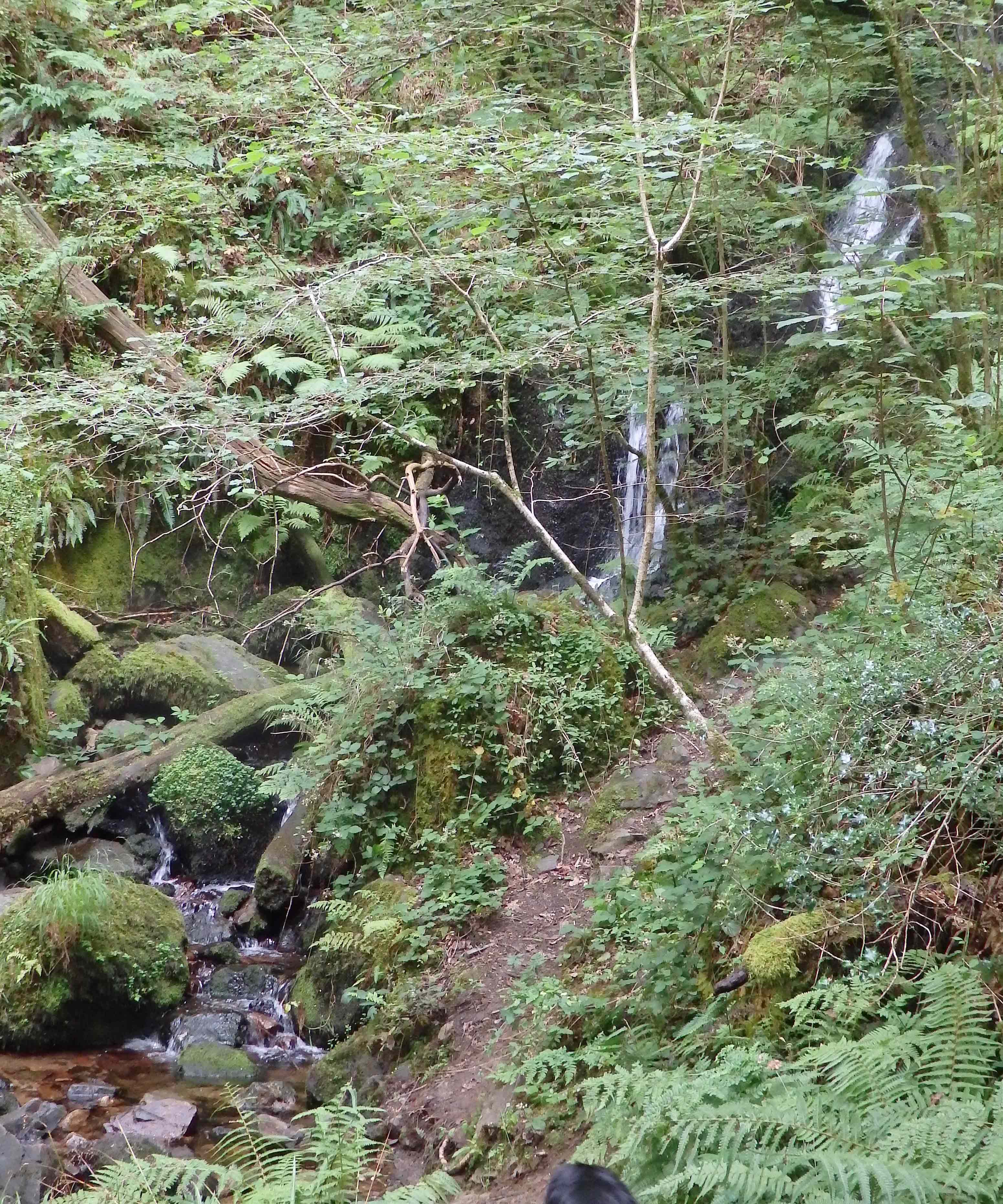 He thought we'd play ball at one of the river's pools, but the water was so deep and fast I put him on the lead and he lay beside me quite happily while I had my own water.